PRF for Lower Eyelid Rejuvenation
Conveniently located to serve the areas of Lake Oswego and Portland, OR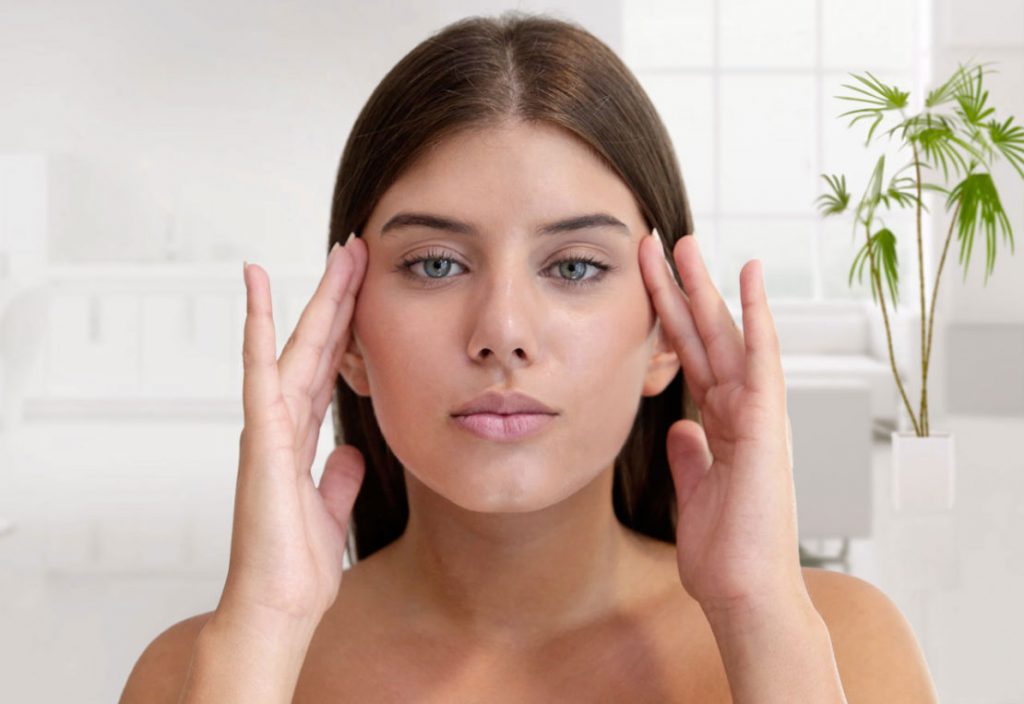 The lower eyelid region is a hard area to treat. Signs of aging include very thin skin with visible vessels and muscles associated with skin laxity are some of the reasons why this area is tricky and difficult to treat.
Established methods to treat this area include hyaluronic acid fillers, micro-needling, skin resurfacing with lasers, radiofrequency and helium(Renuvion), chemical peels and fat grafting along with lower blepharoplasty surgery. Some may not be effective in treating the signs of skin aging including dark circles, lack of volume and loose skin. Some of the above treatments are associated with significant risks and may not rejuvenate the skin.
This product works very well with fillers to give a softer look, along with rejuvenating the skin by the release of the growth factors which stimulate collagen production, improving skin elasticity along with better skin texture.
Treatment
Platelet Rich Fibrin which contains concentrated platelets with growth factors, WBC's and mesenchymal stem cells in low numbers is starting to be used for rejuvenation of the face. It can be used exactly as PRP or Platelet Rich Plasma , which has been used extensively by multiple specialties to improve healing and in rejuvenation procedures. Once the serum or clear portion of the blood is removed it forms a fibrin scaffold or clot and growth factors are released over a longer period of time compared to PRP.
A low risk minimally invasive treatment of PRF injections with and without fillers would correct the majority of conditions with minimal risk to the patient.
Dr. Aust et al 1 published a peer review article in Cureus in 2018 in which he injected the lower eyelid region in 20 patients with PRP once a month for 3 months and he noted a statistically significant improvement in collagen production and elasticity. He used an instrument called a cutometer to measure firmness and elasticity. His patient population ages ranged from 20's to 60's. The younger patients usually had volume deficiency and or dark circles under their eyes and the older patients usually had more skin laxity.
There were no adverse effects and the improvements were measurable and visible to both the examiners and the patients.
In carefully reading his article I feel that he used more of a PRF preparation since the RPM were low and the time used to spin the blood was more consistent with PRF preparation protocols. He also did not use any anticoagulant which is usually used in most PRP preparations.
Procedure
I have expanded his protocols and have also used fillers mixed with the PRF to correct tear trough deficiencies. The filler usually has a low G 1and not hydrophilic so the lower eye do not appear to have bags. Swelling will occur for 1-3 days depending on the patients. The filler is suppose to last longer when the PRF is mixed with it. Long term studies are needed to answer how much longer it lasts.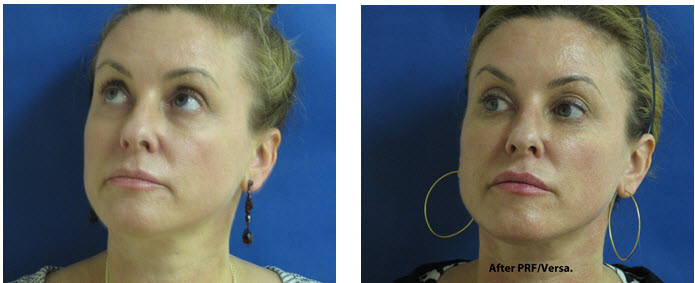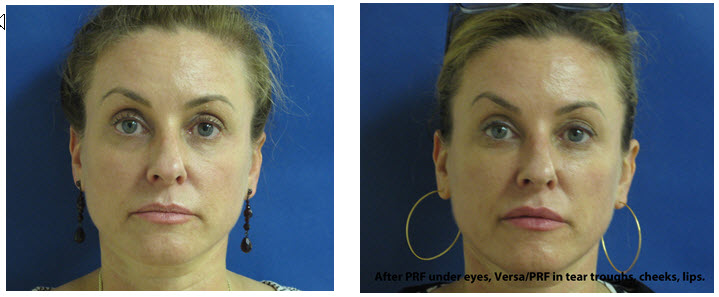 This patient had Versa/PRF injected under the obicularis muscle to correct her tear trough deficiencies. She also had PRF injected in the lower eyelid region to tighten the skin and improve the texture and elasticity of the skin. Versa/PRF was also injected into her lips and cheeks.Below are examples of some of my patients that I have done so far.

This patient had Radiesse to fill out her cheeks prior to the PRF injections to both lower eye region.
This is immediately after the injections.

This patient had just PRF injected under her eyes to improve the discoloration and build volume to her tear trough area. Even young patients have volume deficiency and thin skin where the vessels are more visible so it appears that there are dark circles under the eyes.
Platelet-rich Plasma for Skin Rejuvenation and Treatment of Actinic Elastosis in the Lower Eyelid Area. Aust, Matthias, Potoschnig, H, Jamachi, S et al. Cureus, 2018 Jul;10(7): e2999.