CROSS and Microneedling for Acne Scars
Conveniently located to serve the areas of Lake Oswego and Portland, OR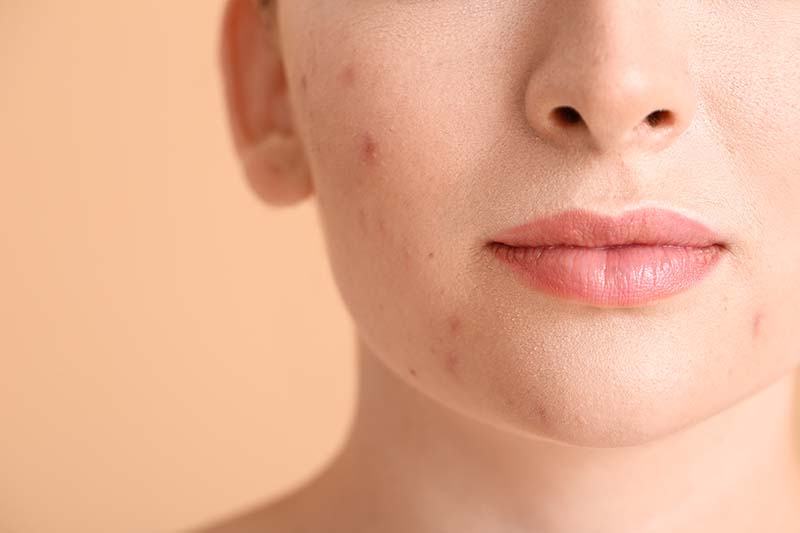 Acne scars can be very difficult to treat in patients. They are disfiguring for some patients and can lead to low self-esteem. CROSS procedure can lead to improvement of acne scarring while Microneedling encourages the body to produce collagen and elastin.
Effective Acne Scar Treatment
Chemical reconstruction of skin scars (CROSS) is a non-surgical skin treatment procedure that can significantly reduce the appearance of acne scarring. Using high concentrations of trichloroacetic acid (TCA) on deeper acne scars, a CROSS procedure can lead to improvement of acne scarring and improved cosmetic appearance in patients.(1) This effective treatment can be complemented further with microneedling for skin with even, smoother texture.
Microneedling, also known as percutaneous collagen induction (PCI), is a skin rejuvenation technique that uses a handheld device with tiny needles to puncture the skin, encouraging the body to produce collagen and elastin.
Aesthetic Laser Center in Lake Oswego, OR provides comprehensive acne scarring treatment under the surgical expertise of cosmetic surgeon Dr. Quita Lopez. Dr. Lopez is a diplomate of the American Board of Cosmetic Surgeons, and has served her community as a trusted medical professional for many years. If you are looking for relief from the physical and mental scars of acne, call our office at (503) 353-0888 for further information about the many benefits of a combination CROSS/microneedling procedure.
Atrophic Scars from Acne
Acne scars can appear in a variety of ways as pockmarks or indentations on the surface of the skin that alter its texture and appearance. Acne scars are split into three categories: atrophic; hypertrophic; and keloidal. Atrophic scars can be further sub-classified into: ice pick; rolling; and boxcar.(2)
The term "atrophic" is used to describe scarring that is concave in nature. These marks are a frustratingly common result of acne vulgaris and illnesses that affect the skin's surface such as chickenpox. Atrophic scars, like those found in more severe cases of acne vulgaris heal below the normal level of skin tissue, causing an indented appearance. CROSS and microneedling cosmetic techniques can be combined to create a safe, targeted treatment to deal with a variety of types of atrophic scarring. Each technique has its own specific attributes that can solve particular skin issues associated with acne.
About CROSS and Microneedling in Lake Oswego, OR
Acne is a common skin condition affecting up to 80% of adolescents.(2) Unfortunately for many people, the negative effects of acne scarring can continue well into adulthood. Acne leaves its mark behind in various noticeable patterns, which can be targeted individually with specialized treatments.
CROSS with TCA for Ice Pick Scarring
Ice pick scars are characterized by their deep, narrow appearance and their notorious resistance to permanent elimination. CROSS with TCA has been proven as a safe, efficacious, cost-effective and minimally invasive technique for the management of ice pick acne scars.(1)
According to a 2015 review study, a single session of TCA CROSS can improve the appearance of ice pick scars by around 25%,(3) with multiple sessions increasing the effectiveness of treatment.
Microneedling for Rolling & Boxcar Scarring
While the TCA CROSS treatment can help with ice pick scarring, a microneedling procedure can target so-called rolling and boxcar scarring caused by acne. Rolling scars are characterized by wave-like marks that are wider than they are deep, while boxcar scarring is angular, with sharp edges. Boxcar scars are narrower than rolling scars, but wider than ice pick scars. Microneedling therapy has been shown in studies as an effective and safe method for atrophic acne scar treatment.(4)
Find out more about cosmetic treatments for scarring, wrinkles, tummy tucks and more by checking out the Aesthetic Laser Center blog.
Benefits of CROSS and Microneedling for Acne Scars
CROSS and microneedling are two procedures that can be expertly combined to provide multiple benefits to patients with acne scarring.
CROSS penetrates deep, targeting and reducing the appearance of ice pick scars.
Microneedling is effective in treating shallow rolling and boxcar scars.
The appearance of noticeable pock marks caused by acne can be visibly reduced.
Both are inexpensive procedures compared to laser treatment.
There is no need for complicated equipment, easy for medical professionals to administer.
Treatment can help patients who have suffered from acne regain confidence and self-esteem.
Contact our Lake Oswego office today on (503) 353-0888 to discover the benefits of combined TCA CROSS and microneedling for acne scars and book a personal consultation with Dr. Lopez.
Candidates for CROSS and Microneedling for Acne
It has been demonstrated in worldwide research that our emotions, daily activities, social activities, study/work, and interpersonal relationships can all be negatively affected by both active acne and acne scarring.(5) Candidates for a combined CROSS and microneedling procedure should be patients who are seeking ways to reduce the appearance of their more severe acne scars and who do not wish to try laser treatments (usually effective for shallow acne scars). Scarring due to acne can be distressing, but you need not worry any longer. At Aesthetic laser Center, we will provide expert care to you and perform acne scar treatments that cater to your individual situation.
Personal Consultation
At your individual consultation with Dr. Lopez, you will have her undivided attention. During your session, she will examine your areas of scarring and suggest the best treatment for you going forward. You will have the opportunity to share your personal feelings about how your scars have affected you, and we will be happy to provide treatments that have been proven to help reduce them!
Preparation for Acne Scar Treatment
Your safety and satisfaction is our number one concern. To prepare for acne scar treatment, you should treat your skin with extra care. This will include protecting your skin from the sun and ensuring you do not use any harsh products on it such as retinoids and exfoliants that could affect the treatment and healing process. Using a gentle soap-free cleanser will prepare your skin adequately for treatment, but please be gentle and mindful of the procedures ahead.
Before coming to your procedure, you will need to remove any cover-up, foundation and sunscreen you have on your face as TCA do not interact well with these liquids. If you have used Accutane to treat your acne within 6 months of your microneedling treatment, you must ensure you tell Dr. Lopez and follow her advice carefully regarding your combined acne scar treatment.
To see great results with real patients, please visit our before and after gallery, or get connected with us via our social media accounts for more news and patient success stories.
CROSS and Microneedling Procedure
CROSS with TCA
With a TCA CROSS treatment, several scars can be dealt with in one session. Dr. Lopez will skillfully apply the chemicals to the recessed areas in each incidence of scarring, creating a polka dot-like pattern with a long wooden instrument. After the treatment has settled into the scar, it will begin to whiten in a process known as frosting. This is the TCA working to create local tissue damage in the skin. This process stimulates fibroblasts in the dermis, creating new collagen fibers and raising the scar from its indented position. Although you may feel some burning at this time, this is temporary and will subside in the hours and days after your procedure. Depending on the number of scars targeted for treatment, this step can be completed in as little as 20 minutes.
Microneedling
The microneedling procedure begins with a thorough cleansing of the skin. After this, Dr. Lopez will carefully manipulate the microneedling device over the targeted area of scarring, during which minute pinpricks will penetrate deep into the skin. From start to finish, the microneedling procedure will take between 30-60 minutes depending on the number of acne scars being treated in the session. 
To call our Lake Oswego office, dial (503) 353-0888 to book your individual consultation with Dr. Lopez and take a step closer to your goal of clearer, smoother skin!
Recovery & Results After Acne Scar Treatment
Recovering from your TCA CROSS and microneedling treatments is simple. In the days after your treatment, you should avoid spending time in the sun to minimize UV light exposure. During your recovery, you may experience some temporary tightness and discomfort, but this will subside in a few days. Dr. Lopez advises her patients to apply a gentle hydrating facial moisturizer and avoid using harsh, abrasive exfoliants and alcohol-based cleansers in their skincare routine. Most patients will be able to see the full benefits of the results of their scar treatment in as little as one month, once the body has had time to successfully respond to each procedure.
Cost of CROSS and Microneedling in Woodburn, OR
The cost of your treatment will vary depending on the severity of your scarring and the time it takes to perform both the TCA CROSS and microneedling procedures. Dr. Lopez offers financing for qualified patients.
FAQ
Can microneedling improve my acne scars?
Yes! In many cases microneedling has been proven to reduce the appearance of rolling and boxcar scars as a result of acne.(4) Speak to a licensed cosmetic surgeon for more details about how microneedling could help you get rid of scarring.
How does CROSS treatment help with acne scars?
A TCA CROSS treatment can improve the appearance of so-called ice-pick scarring caused by acne vulgaris. It does so by penetrating deep into the dermis to stimulate fibroblasts in the skin which signal the body to produce new collagen fibers. This process can successfully raise the scar's indentation for a smoother complexion.
References