CaHA Fillers
Conveniently located to serve the areas of Lake Oswego and Portland, OR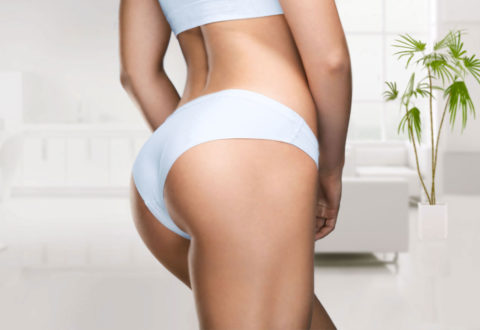 CaHA (Calicuim Hydroxyapatite ) is Radiesse, PLLA ( Poly-L-Lactic Acid) which is Sculptra and last is PMMA (polymethylmetacrylate) or Bellafil.
Fillers to Stimulate Skin Tightening in The Buttocks
Radiesse has been shown to be a biostimulatory filler since 2004. It is biocompatible, biodegradable and a resorbable filler. This is important because there is minimal chance of nodule (lump) or granuloma (inflammatory lump) formation years after injections which I have seen with PLMMA and have subsequently treated. The CaHA stimulate fibroblast which increase collagen as well as elastin which improves tightening of the skin. These are in a carrier called carboxymethycelluose which give immediate filling when injected.
Procedure Process
The CaHA particles are degraded into calcium and phosphate and filtered out of the body by the kidneys after 9-12 months. This immediate correction occurs because Radiesse has one of the highest G' which clinically means that it provides the most lift of all the fillers.
This filler lifts deep fat pads in the face when placed directly on the bone. This placement stimulates new collagen as well as elastin and vessels. It has been observed to produce more type 1 collagen and elastin compared to hyaluronic acid.1
Another study demonstrated soft tissue enlargement on MRI 2.5 years after injection.2
Silvers et al.3 demonstrated a 50% increase in skin thickness 3 months after injections which was maintained in 91% of the patients during an 18-month period.
When this product is diluted it will provide less filling but the CaHA microspheres will product skin tightening by producing increase collagen and elastin production. This allows the product to be injected more superficially without the fear of nodule production and a larger surface area can be treated.
Candidates
Since Brazilian Butt Lifts have become more popular and I am definitely doing more fat grafting to the butt now then I did 10 years ago. While fat grafting definitely works in most patients and most will experience an increase in size and projection; some patients are still unsatisfied with the results and desire an improvement in the appearance of the skin especially when cellulite dimples are present. Others want more skin tightening and less sagging, some do not want to undergo surgery and want a non-surgical rejuvenation.
There was a consensus paper in 2017 written where a team of 10 experts that made recommendations for the use of hyperdiluted CaHA for the treatment of the face and body. There was a strong concensus that the treatments be made 1-2 months apart and that 2-3 sessions be performed. After the desired results are achieved, one maintenance session in 12-18 months is recommended. 4
I like to place the product with cannulas as they generally cause less pain and trauma, and I can treat a larger surface area at one time. Two studies have demonstrated more precise placement with cannulas compared to needles using cadaver studies.5-6 After the placement product it is messaged and the patient is then instructed to also message the area twice a day for 3-7 days.
The patient had Vaser Liposuction of her flanks with fat grafting to the butt. She had some persistent cellulite dimpling in the midportion and contour irregularities on the lower-outer quadrant of her butt. Two sessions of Radiesse injections one month apart were done to tighten the skin, improve the contour irregularities and smooth out the cellulite. Last photo was taken immediately after the second session of Radiesse injections.
References:
Yutskovskaya Y, Kogan E, Leshunov E. A randomized, split-face histomorphologic study comparing a volumetric calicum hyroxyapatite and hyaluronic acid-based dermal filler. J Drugs Dermatol, 2014;13:47-52.
Pavicic T. Complete biodegradable nature of calcium hydroxyapatite after injection for malar enhancement: an MRI study. Clin Cosmet Investig Dermatol. 2015;8:19-25.
Silvers SI, Eviatar JA, Eschavez MI, et al. Prospective, open-label 18-month trial of calcium hydroxyapatite for facial soft-tissue augmentation in patients with human immunodeficiency virsus-associated lipoatrophy: one-year durability. Plast Reconstr Surg. 2006;118(suppl);34S-45S.
de Ameida A, Figueredo V, da Cunha, A, et al. Consensus Recommendations for the Use of Hyperdiluted Calcium Hydroxyapatite (Radiesse) as a Face and Body Biostimulatory Agent Plast Reconstr Surg. 2019 Global Open.
van Loghem JA, Humzah D, Kerscher M. Cannula versus sharp needle placement for soft tissue fillers: an observational cadaver study. Aesthet Surg J. 2017;38:73-88.
Pavicic T, Frank K, Erbacher K, et al. Precision in dermal filling: a comparison between needle and cannula when using soft tissue fillers. J Drugs Dermatol. 2017;16:866-872.