VASER Hi-Def Liposuction
Conveniently located to serve the areas of Lake Oswego and Portland, OR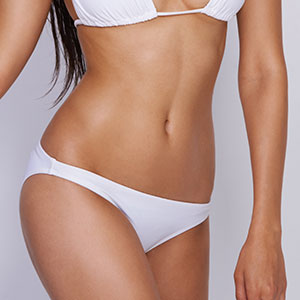 VASER Hi-Def Liposuction is a minimally invasive body contouring procedure that can precisely remove unwanted fat for a sculpted, muscular physique. Like traditional tumescent liposuction, it aspirates fat through a long, slender cannula that the doctor navigates underneath the surface of the skin via a small incision.
What sets VASER apart from other liposuction procedures is the addition of ultrasonic energy. VASER is an acronym for Vibration Amplification of Sound Energy at Resonance. The sound waves break down the fat deposit, making it easier to remove. During a VASER Hi-Def procedure, this allows the surgeon to strategically remove fat in a way that accentuates the patient's anatomy. For patients frustrated that the results of their workouts are still hidden behind a stubborn layer of fat, this procedure can snap their physique into high definition. VASER Hi-Def makes it possible to safely remove small amounts of fat from close to the surface of the skin for enhanced musculature. (1) At Aesthetic Laser Center, Dr. Quita Lopez is dedicated to offering her patients the latest in cosmetic medicine, premium services, and expert care. To learn more about VASER Hi-Def Liposuction, and whether it's right for you, schedule an appointment for a personal consultation. You can speak with one of our helpful staff members in Lake Oswego by calling (503) 353-0888.
Before and After Photos
Effective Fat Removal
Liposuction is one of the most commonly performed aesthetic procedures. While not a weight loss procedure, men and women who are looking to target specific areas of fat that are resistant to diet and exercise are able to achieve their ideal silhouette with a little help from liposuction. It's a versatile procedure that can be safely performed on many different areas of the body. VASER Hi Def Liposuction is a great way to sculpt the finishing touches for your physique. As liposuction technology has become more precise, it's allowed surgeons to create even more impressive results, and VASER Hi Def liposuction is at the forefront of these breakthroughs.  
About
Liposuction removes the fat found just beneath our skin: subcutaneous fat. This kind of fat is arranged in groupings of fat cells called lobules. In between these lobules we find the fibrous septae, which contain nerves, blood vessels and components of our lymphatic system. With weight gain, these fat cells increase in size. As weight gain continues, fat cells continue to grow larger. Unfortunately, weight loss only decreases the size of fat cells, rather than reducing the number of fat cells in the body. This is what makes certain areas of fat so resistant to diet and exercise, and why certain areas of our body don't seem to be affected despite our best efforts.
Liposuction removes fat cells via controlled suction so that they are unable to increase in size. Once they're gone, they're gone for good! It also causes considerable damage to the remaining fat cells so those not eliminated during the suction process are disrupted by the motion of the cannula. Over time, the body reabsorbs and eliminates the damaged fat cells. In 6-12 weeks, patients see an additional improvement in the treatment area. (2) 
How Does Vaser Hi-Def Liposuction Work?
What sets VASER liposuction apart from the other liposuction techniques currently used is the ultrasonic probe that is introduced into the targeted treatment area. This probe emits pulses of oscillating sound waves. These waves disrupt the cellular structure of the fat tissue. (1) Like other forms of tumescent liposuction, the treatment area is infiltrated with a tumescent fluid. This solution is a blend of epinephrine, which causes blood vessels to contract, lidocaine to keep the patient comfortable, and a saline solution that engorges the area, making fat easier to remove. As the sound waves travel through the fluid, they cause air bubbles to form, which emulsifies the fat tissue, loosening it from the connective tissue and muscle. Scientists compare this to a "crowbar" effect. When the fat is sucked away, more blood vessels and other tissues between the fat lobules are able to be left intact. As a result, patients experience less bruising, blood loss, and discomfort during recovery. Surgeons are able to remove fat more efficiently. (3)  And in the case of VASER Hi-Def liposuction, they are able to work close to the surface of the skin to create the grooves and delineate muscle groups for a chiseled athletic effect. 
Benefits of VASER Hi-Def Liposuction
VASER Hi-Def Liposuction is a versatile body contouring technique that can define and sculpt many areas of the body:
Increase muscle definition in arms and legs
Create the appearance of six-pack abdominal muscles
Emphasize pectoral muscles
Reveal lean, toned latissimus dorsi and trapezius in the back
Improve chin projection and jawline definition by removing fat under the chin
And, for added enhancement, fat that is removed during the liposuction procedure can be injected into other areas of the body. This fat grafting can serve to amplify the appearance of pectoral muscles or give biceps the desired bulge.
Candidates
Candidates for VASER Hi-Def liposuction are at a healthy weight, lead an active lifestyle, and don't have excessive amounts of fat in the areas that they'd like to improve. This procedure is not a weight loss solution. Patients that smoke will need to stop in the weeks leading up to their procedure and for the duration of their recovery. The best way to find out if VASER Hi-Def liposuction is right for you is through a personal consultation with Dr. Lopez. Call our Lake Oswego office at (503) 353-0888 to make an appointment!
Personal Consultation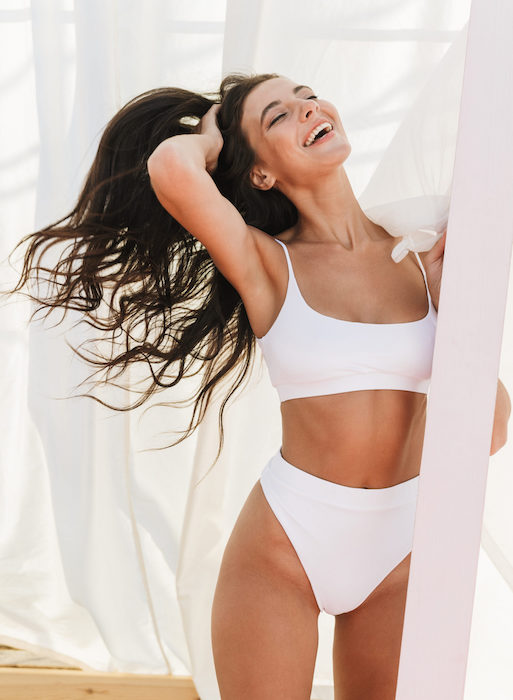 During your personal consultation, you'll have the opportunity to learn more about the VASER Hi Def procedure, and Dr. Lopez will have the opportunity to learn more about you! Although minimally invasive, liposuction is still a surgical procedure, so you'll need to meet the health criteria and have a viable layer of fat in order to make this procedure a success. Dr. Lopez will examine the areas that you'd like to treat and explain more about the process and how it may benefit you. If she determines that you'd be a good candidate for VASER Hi-Def lipo, she'll create a detailed surgical strategy to ensure that your results are unique to your anatomy, and highlight your best features. You'll be given comprehensive instructions to prepare for your procedure and so that you know exactly what to expect during your recovery.
Procedure
On the day of your procedure, you'll be walked through the steps of your treatment and have the opportunity to raise any last questions or concerns. Dr. Lopez will make marks to guide her during the liposuction, and you'll be administered the necessary anesthesia. Once it's taken effect and you're resting comfortably, your VASER Hi-Def liposuction will begin.
Tumescent fluid is injected into the treatment areas
Ultrasound energy is applied through small incisions to damage fat
Fat is carefully suctioned away to emphasize the appearance of muscles
Incisions are sutured
The treatment area is dressed in bandages and compression garments
Once the patient has recovered from the anesthesia, they are free to return home with their designated caregiver to begin the healing process.
Recovery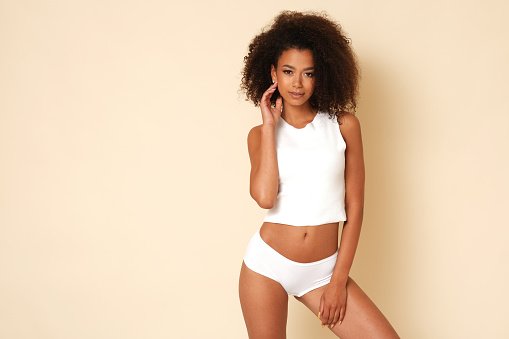 Your recovery will be closely monitored at follow-up appointments with Dr. Lopez and compression garments should continue to be worn until instructed otherwise. After 2-5 days of rest, most patients are able to return to their schedule and light activity. Mild discomfort, bruising and swelling are to be expected but can be managed with pain medication, which will be prescribed prior to your surgery. Strenuous activity should be avoided for 4-6 weeks after your procedure, but regular walks are recommended to encourage healthy circulation and healing. Most swelling will improve gradually over the coming weeks.
Results
The VASER Hi-Def technology allows for more precise fat removal, an easier recovery for the patient, and chiseled results. As an added benefit, the sound energy aids in skin retraction, so patients can look forward to firmer skin along with their slender new contours. (1) Once the swelling has subsided, patients can look forward to enhanced muscle definition and a lean, muscular appearance. To learn more about the other services offered at Aesthetic Laser Center, and how Dr. Lopez has helped patients in Woodburn and Lake Oswego look and feel their very best, follow our blog.
VASER Hi-Def Liposuction Cost
The cost of your VASER Hi-Def liposuction will depend on the areas treated and other details of your procedure. The areas treated and the amount of fat to be removed are all factored into the final cost. All pricing details will be given to you at your consultation. Patients that qualify can receive financing for their procedure through our partnership with Prosper Healthcare Lending.
References
Hoyos, A. E., & Guarin, D. E. (2020). High-Definition Body Contouring Using VASER-Assisted Liposuction. Ultrasound-Assisted Liposuction, 203–211. https://doi.org/10.1007/978-3-030-26875-6_13
Venkataram J. Tumescent liposuction: A review. Journal of Cutaneous and Aesthetic Surgery. 2008;1(2):49. doi:10.4103/0974-2077.44159
Shridharani S, Broyles J, Matarasso A. Liposuction devices: technology update. Medical Devices: Evidence and Research. Published online July 2014:241. doi:10.2147/mder.s47322