Tummy Tuck
Conveniently located to serve the areas of Lake Oswego and Portland, OR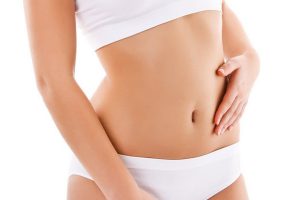 A tummy tuck is a cosmetic surgery that slims and defines the midsection. This body contouring procedure can help give the patient a desired tapered waist and flatter abdomen after pregnancy or weight loss and restore your youthful contour. To see if you would benefit from a tummy tuck, contact our office today and a member of our staff will gladly assist you in scheduling a private consultation.
Before and After Photos
What is a Tummy Tuck?
A tummy tuck, also known as abdominoplasty, is a cosmetic surgical procedure performed by Dr. Lopez to remove excess skin and fat from the abdominal area. There are a variety of different techniques which vary according to each patient's needs and the amount of excess skin, fat, and muscle repair needed. Anyone looking to have the excess saggy skin and fat and tighten the abdominal area are candidates for tummy tuck surgery and is encouraged to schedule a consultation with body contouring specialist Dr. Lopez. Dr. Lopez routinely performs liposuctions with a tummy tuck procedure to remove unwanted fat deposits.
Benefits
Anyone who has excess skin and fat of the abdomen is a possible candidate. Patients who have undergone the tummy tuck procedure have noticed a variety of benefits. Here are a few:
Contoured and sculpted waistline
Smoother and tighter abdomen
Improved core muscle integrity and strength
Reduced appearance of "love handles"
Increased self-confidence
No hanging skin or fat
Restore your body to its younger appearance
(Individual Results May Vary)
The benefits of a tummy tuck are apparent in patient's improved self-confidence. As the appearance of the abdominal area flattens and tightens, patients feel more comfortable and confident in their new body. Our female patients begin to wear more tight-fitting dresses and tops, while our male patients find the confidence to go shirtless to the beach. These are just a few of the countless benefits a tummy tuck can provide. Contact us today if you are interested in this life-changing procedure.
Ideal Candidates
A tummy tuck with liposuction works best for patients with excess skin who have localized deposits of unwanted fat. Other criteria include:
Overall general health
Non-smoking
Stable weight and not planning excessive weight change after procedure
Realistic treatment goals
Women who have had many pregnancies will benefit from a tummy tuck which helps support and strengthens the abdominal muscles. Women who are currently pregnant or who plan on another pregnancy should defer a tummy tuck until their family is complete.
Surgery Information
A tummy tuck usually takes between 2-3 hours on average depending on the techniques used during surgery. This may increase if liposuction is added in addition to the tummy tuck. The surgery is performed under general anesthesia on an outpatient basis. Dr. Lopez will create a custom individualized treatment plan during the consultation, and discuss specific procedure details.
Techniques We Perform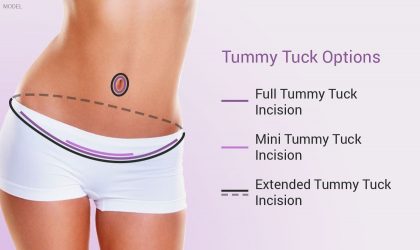 Abdominoplasty
Dr. Lopez lifts the abdominal skin and fat off of the abdominal muscles. Sutures are used to pull the abdominal muscles together in the midline to create a flat abdomen and slimmer waist. The rectus diastasis is surgically connected. The upper abdominal skin is then pulled down towards the pubic area, and the excess skin is removed. Dr. Lopez may create a new hole for the patient's belly button to create a more natural, proportionate appearance.
Mini Abdominoplasty
Dr. Lopez recommends a mini-abdominoplasty instead of a full tummy tuck for patients who have minimal excess skin located below the belly button. The belly button does not have to be repositioned as this technique is less invasive. During a mini-abdominoplasty, Dr. Lopez makes a small incision by the pubic bone. Dr. Lopez will then remove the excess skin and tighten the lower abdominal muscles.
Extended Abdominoplasty
The extended tummy tuck technique is performed on men and women who have experienced substantial weight loss or have significant excess skin and fat. This surgery follows the general guideline of the tradition tummy tuck, but the incision is extended to the flanks or hips. This allows for more skin excision and greater contouring abilities. Liposuction is often performed with this technique as well. Dr. Lopez starts by marking the incision location near the patient's pubic line, hiding the incision in the lower abdomen. The scar is easily hidden by clothes or a bikini.
Recovery
To support the abdominal muscles, as well as contour the waistline, a compression garment around the abdomen is recommended for about 6 weeks following surgery.
Patient's recovery time varies depending on the technique performed. Patients can typically return to work 1 week after surgery. They can expect slight swelling, which resolves over 3 months. Dr. Lopez will prescribe pain medication, antibiotics, anti-nausea, and products to improve the scar. They should avoid heavy lifting as well as abstain from exercise until instructed otherwise by Dr. Lopez. Additional customized written recovery instructions are provided to every patient, so you will enjoy optimal results.
Results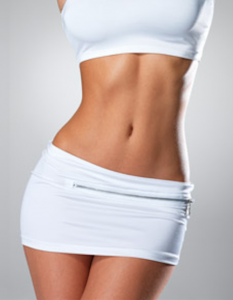 The abdominal area shows immediate improvement and a flat contour in almost all patients. There will be no more hanging skin or fat! After the procedure, the low transverse scar will be hidden under the bikini line. The scar will, in most cases, fade from pink to white over a year. Dr. Lopez will offer different ways to care for the incision site and reduce scars. The results of the tummy tuck can be long-lasting. Patients can maintain optimal results with a healthy diet and regular exercise.
Cost
Several factors can affect the final cost of the tummy tuck surgery. This includes the technique undergone and additional procedures performed during surgery like liposuction. Dr. Lopez will discuss specifics with you during the consultation.
Patients should
schedule a consultation
with Dr. Lopez to receive an individualized tummy tuck quote.
Consultation
A consultation with Dr. Lopez is the first step towards a tummy tuck. During the consultation, Dr. Lopez will discuss concerns and aesthetic goals. She will then conduct a thorough physical exam, including the patient's abdomen. She is more than happy to answer any patient questions and addresses any concerns related to the procedure; Dr. Lopez wants patients to feel confident in their decision to undergo cosmetic surgery. She will create a customized treatment plan based on the specifics of the case to achieve the best results possible. The cost will be addressed at this time. We are proud to offer financing options for our tummy tuck patients. Contact our Portland, Oregon location today to request your consultation.