Fillers
Conveniently located to serve the areas of Lake Oswego and Portland, OR
You're not ready for a Facelift! For our younger patients, our full line of dermal fillers and injectables are a way to return youthful suppleness to your skin without the commitment of surgery. If you're in your 20s, consider these non-invasive alternatives as preventative measures to address the unwelcome signs of aging before they fully arrive. Dermal fillers are safe and easy. A rejuvenating rendezvous at Aesthetic Laser Center wraps up in 30 minutes or less. Give your looks a lift at lunch in the time it takes to wait in line at Starbucks.
Dr. Lopez and her expert staff serve Northern Oregon with the finest and most affordable aesthetic treatments available. Located in the beautiful city of Portland, Aesthetic Laser Center for Cosmetic, Breast and Laser Surgery specializes in non-invasive and surgical solutions for women and men of every age who want to look and feel their best. Contact us to see if you're a good candidate for any of our transformative procedures. Call 503-353-0888 to schedule a consultation.
Before and After Photos
About Dermal Fillers
Dermal fillers are injectable gels that provide volume to aging skin. They are frequently added to the face to smooth wrinkles and fill sunken areas. Dermal fillers can also plump lips and restore a youthful appearance to the back of the hands. There are several types of dermal fillers, each with different base components. These include hyaluronic-based, calcium-based and polylactic acid-based. Each of them treats different areas and addresses special concerns. Dr. Lopez is proud to offer Radiesse, and Restylane to meet the aesthetic needs of all her patients.
What are Dermal Fillers Used For?[1]
Adding volume to areas of the face that begin to appear sunken or hollow over time, such as the cheeks, the temples and under the eyes
Plumping thin lips, softening lip lines, or improving symmetry to your lips
Smoothing out deep smile creases from the nose to the lips (nasolabial folds) and mouth (marionette lines) and upturning at the corners of your mouth
Filling in scars, acne scars, or indentations
Adding volume to the back of the hands to restore lost hand volume and conceal prominent veins
Dermal Fillers vs. Botox
Dermal fillers and Botox are both FDA-approved injectables used to combat facial wrinkles. However, the way they accomplish this is very different. Dermal fillers are made of sterile gel that adds volume to the skin. They soften fine lines and wrinkles by literally filling the areas with product. Botox contains purified botulinum toxin which reduces the appearance of frown lines and crow's feet by temporarily stopping muscle contractions at the site. Dynamic wrinkles are caused by facial expressions such as smiling, squinting or frowning. Botox allows the muscles to relax. This smooths fine lines and wrinkles and prevents future ones from forming. Botox will last approximately four months.
Many men and women benefit from both dermal fillers and Botox to reduce their wrinkles. Botox or Radiesse are often performed together for optimal results. We offer all of these effective treatments at Aesthetic Laser Center.
Your Personal Consultation With Dr. Lopez
Your consultation is your opportunity to sit with Dr. Lopez and discuss your aesthetic goals. The doctor will perform an examination of your face or hands, taking into consideration your natural proportions and skin quality. If she finds you to be a good candidate for dermal fillers, she will explain your ideal course of treatment. Your treatment may be performed during the consultation if possible and appropriate.
Before your visit, peruse our stellar reviews for a sampling of all the fine work we've done.
Your personal consultation will be enhanced by TouchMD, a digital communication tool with pictures, video and other information so that all who enter Aesthetic Laser Center leave fully informed. Dr. Lopez enjoys helping people to improve their lives by enhancing their appearance. Patient education is a big part of fulfilling that mission. Contact us to schedule your personal consultation and learn more about our many popular procedures. Call 503-353-0888.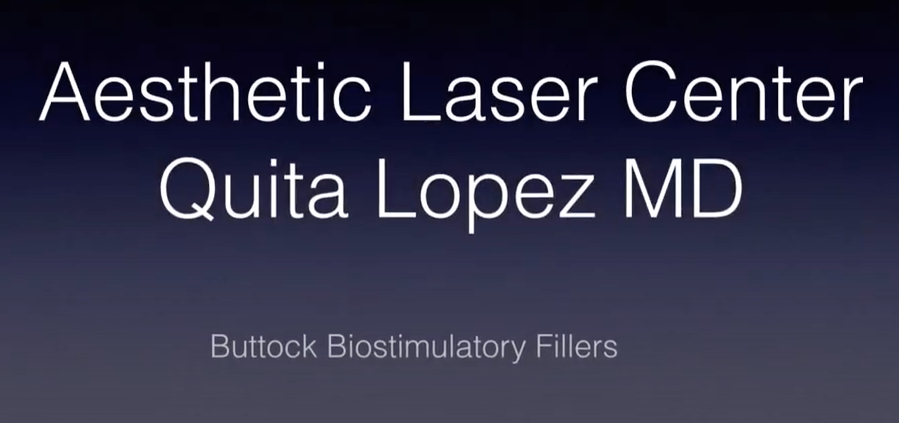 Click to Watch Above Video
Types of Dermal Fillers
Radiesse
Radiesse is a synthetic injectable filler that reduces wrinkles, creases and scars by augmenting the body's natural collagen supply. Composed of microspheres in a biocompatible gel, Radiesse is made from the same minerals found in our bones, so there is little risk of an allergic reaction. Radiesse can treat the nasolabial folds, perioral lines and cheeks. It is FDA-approved for injection at the back of the hands, an often overlooked area for cosmetic enhancement.
Belotero Balance
Belotero Balance is an injectable filler that quickly integrates with your skin. Immediately upon injection, Belotero plumps the skin and smooths away wrinkles. Belotero Balance is made of hyaluronic acid or HA, a natural component of the skin. HA has the capacity to bind to water, making it an ideal dermal filler. It binds with the skin's own water to fill wrinkles and folds![3]
Restylane
Restylane is designed to smooth wrinkles, sculpt lips and shape facial contours. It is a clear, synthetic gel made with hyaluronic acid, a natural substance that is found throughout our bodies. It carries little risk of an allergic reaction. The most common areas for treatment are the glabellar lines (between the eyebrows) and the nasolabial folds (from the side of the nose to the angle of your mouth). With its unique ability to bind with water, Restylane remains in your skin for many, many months.
Results & Recovery
There is no downtime necessary after dermal filler injections. The injection sites may initially be slightly swollen or red, but these effects will go away in a few hours. Patients should avoid exercise or other strenuous activities for the remainder of the day. The day you receive your fillers, avoid weight lifting or long-distance running!
Dermal fillers are not a permanent solution for the signs of aging. But, with routine treatments, the results can be long-lasting.
What Do Dermal Fillers Cost in Northern Oregon?
Your personal consultation is the first step in determining your precise course of treatment. Dr. Lopez will quote you an accurate cost following your physical examination. Aesthetic Laser Center's full suite of services can help women of any age look and feel their best. Contact us to see if you're a good candidate for dermal fillers and injectables. Call 503-353-0888 to schedule a consultation.
Financing options are available for those who qualify. Watch our specials page for the latest deals.
FAQ
What are fillers?
Fillers are FDA-approved anti-aging injectables. Their main ingredients are designed to stimulate natural collagen production and create long-lasting, youthful volume within the skin. 
What do fillers do to your face?
Fillers erase signs of aging and restore skin's smooth, healthy appearance. A single, convenient injection with a filler will add volume and erase fine lines and moderate wrinkles.Volume loss is one of the most common causes of facial aging. By adding volume to the skin, fillers correct an aged, hollowed-out appearance. Fillers look and feel natural. Your appearance will be rejuvenated, but no one will be able to tell why! 

The active ingredients in fillers additionally stimulate your body's own production of collagen. As a result, patients develop more natural skin volume. This extends and improves outcomes.
What areas can fillers treat?
Fillers can be used to add volume and treat wrinkles on the:

• Forehead
• Between the eyebrows
• Under-eyes
• Lips
• Cheeks
• Nasolabial folds that form along the nose
• Marionette lines along the lips
• Hands 
What are the types of dermal fillers? 
Dermal fillers available at Aesthetic Laser Center include Radiesse, Belotero Balance, Belafill, Restylane, Revanesse Versa. Restylane, and Radiesse offer different formulations to achieve the preferred results at different injection sites.
What are hyaluronic acid fillers?
Hyaluronic acid fillers include Restylane, Belotero Balance, and Revanesse Versa. When skin is young, it is well-supported by an infrastructure of hyaluronic acid, collagen, and elastins. As we age, our body produces less collagen and fewer HA molecules. As a result, skin loses volume and elasticity. Fillers add volumizing HA back to the skin. The HA will not only fill in skin, it also jumpstarts production of collagen. The result is naturally fuller, smoother, healthier skin! 
How does Radiesse stimulate collagen?
Radiesse stimulates production of new collagen with its main ingredient calcium hydroxylapatite. This main ingredient is biocompatible and made of the same minerals as human bones. Radiesse's microspheres achieve a smooth result and are easily accepted by the body.  
Can fillers get rid of jowls? 
Fillers can help treat mild to moderate nasolabial folds, the lines that commonly form along the nose and mouth and create a jowl-like appearance. If your jowls are a result of more pronounced skin laxity, you may benefit from a skin tightening procedure. Dr. Lopez can assess the needs of your unique case during a convenient, private consultation at Aesthetic Laser Center.  
Can fillers get rid of acne scars?
Yes, a targeted injection with a filler can fill in the divots often left behind by acne scars. The type of filler that will best address your scar will depend on the type of scarring and your injection preferences.
Can fillers be used for under-eye bags?
A hollow under-eye appearance can make anyone look more tired and aged than they really are. Restylane and Belotero have both shown to be very effective at treating under-eye bags. 
Will fillers get rid of dark circles?
In some cases, hyaluronic acid fillers have shown to help reduce the appearance of dark under-eye circles. Whether fillers are the best solution for your case can be determined at a private consultation at Aesthetic Laser Center.
How are fillers injected?
Fillers are administered in-office at Aesthetic Laser Center. Fillers are injected using fine, medical-grade needles into the desired treatment area. Patients have the option of being kept comfortable with a topical anesthetic. The depth and location of your fillers will depend on the specific goals of your case. Treatment with dermal fillers is often completed in under 20 minutes. No downtime is required after your session! You will be able to get right back to your day if you choose. 

Dermal fillers are often injected during the same session as Botox for beautiful, full-face rejuvenation!
What is the best filler?
Today's dermal fillers are more advanced and effective than ever. There is no one perfect filler! The type of filler that is right for you will depend on your goals, the needs of your case, and the area you will be treating.
What is the best lip filler?
The type of lip filler that is best depends on your personal preferences and the outcomes you would like to achieve. Restylane delivers beautiful, soft lip augmentation outcomes. These fillers will not only add the desired amount of lip volume, they will also fill in the fine lines and wrinkles around the lips. The result is smooth, flattering skin and lips.
Can filler be removed?
Yes, if patients are unhappy with their results, all or part of the filler can be removed. Removal is usually accomplished with the assistance of hyaluronidase. 
Can fillers be permanent?
Fillers can be semi-permanent. Bellafil are two semi-permanent fillers offered at Aesthetic Laser Center.
How long do fillers take to settle?
Increased volume in the treated area will be apparent immediately. Fillers take full effect within one to two weeks. 
How long do fillers last for?
Fillers last from six months to two years, or more! The life of your fillers will vary based on your chosen injectable, your injection site and your body's unique chemistry.  
Are fillers painful?
Injectable fillers are administered with fine, medical-grade needles. Patients who decide to receive their treatment without anesthetic say the treatment is tolerable and feels reminiscent of a tiny insect bite. A topical anesthetic is available to keep patients completely pain-free during their session.
Are fillers safe?
Fillers, when administered by a trained medical expert or aesthetician, are completely safe. 

Radiesse, Restylane, are FDA-approved to add volume and address wrinkles. Side effects are minor and will be discussed with you prior to your treatment session. 
What are the side effects of fillers? 
Bruising, mild redness, soreness, or small bumps at the injection site. These conditions will subside within one day of your filler placement. Patients who avoid blood-thinning medications and supplements like ibuprofen, naproxen, fish oil, vitamin E, and ginkgo biloba for two weeks prior to their treatment will help reduce the severity of any side effects. 
What to avoid after fillers?
After fillers, avoid strenuous exercise and hot water for 24-48 hours. Continue to avoid non-steroidal anti-inflammatory medications and supplements for ten days. This will help your body accept the injection most effectively. 
Can I lay down after fillers?
Keep your head elevated for a few hours after your treatment. Patients are also advised to sleep with their head elevated for the first three nights after receiving fillers. 
Should you massage your lips after fillers?
Dr. Lopez will give you clear after-care instructions to follow after receiving lip fillers. In general, Dr. Lopez does not recommend massaging the lips for at least 48 hours. 
Are fillers preventative?
Yes! Due to the fact that fillers support the skin with natural volume and improve the presence of collagen, fillers help prevent the formation of new fine lines and wrinkles. 
Are fillers better than Botox?
Fillers are not better than Botox: they are simply a different form of anti-aging injectable! Fillers treat static lines and wrinkles, while Botox will treat dynamic wrinkles. Static wrinkles are the result of volume loss in the skin. Dynamic wrinkles are formed by repeated muscle use, which pulls and creases the skin until lines and wrinkles form. Botox is an FDA-approved neuromodulator which blocks the signals from the brain to the muscle responsible for a wrinkle. As a result, the wrinkle relaxes and vanishes! Results last 4-6 months. Patients often combine Botox with fillers for a quick, impressive transformation of their entire face! 
Are fillers right for me?
Fillers are an excellent option for men and women who have moderate to severe static lines and wrinkles on their face or hands. Dr. Lopez recommends that patients be over 22 years of age to receive dermal fillers. She will meet with you during a private consultation to help you determine if fillers are the best anti-aging solution for you. Fillers are a highly effective, convenient option for busy patients who would like a quick treatment with long-lasting results. Patients who have more advanced skin aging or who have signs of sun damage may be better candidates for alternative or combination rejuvenation treatments.
How much do fillers cost?
A price of a syringe of filler starts at $700 to $850, with Voluma and Bellafill being most expensive. At your consultation, a personalized Plan will be created just for you, individualizing your treatment plan and optimizing treatment timing throughout the year, for the best natural results. You will love your filler. 
References
Gold, M. (2007). Use of hyaluronic acid fillers for the treatment of the aging face. Clinical Interventions in Aging, Volume 2, 369–376. doi: 10.2147/cia.s1244
Deoxycholic Acid Injection: MedlinePlus Drug Information. (n.d.). Retrieved January 23, 2020, from https://medlineplus.gov/druginfo/meds/a615026.html
Sisti, A., Boczar, D., Restrepo, D., Nisi, G., & Forte, A. J. (2018). Evaluation of the In Vivo Kinetics and Biostimulatory Effects of Subcutaneously Injected Hyaluronic Acid Filler. Plastic and Reconstructive Surgery, 1. doi: 10.1097/00006534-900000000-97671