Eyelid Surgery
Conveniently located to serve the areas of Lake Oswego and Portland, OR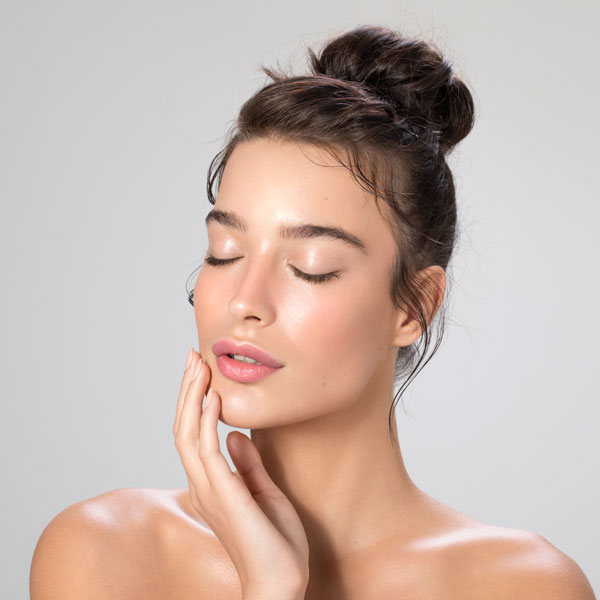 Eyelid surgery (blepharoplasty) is a cosmetic procedure that can be performed to improve the appearance of the eyes and increase functional ability. The surgery can be performed on the upper eyelids, lower eyelids, or both to correct drooping eyelids and puffy bags under the eyes. Patients may start to see droopy eyelids and under-eye bags form in their early 20s because the eyes are one of the first areas of the face to show signs of aging [1], which can make a person look exhausted even when they're not. And when sagging around the eyes is the first part of the face to show signs of aging, it can add several years to the appearance.
At Aesthetic Laser Center, we offer eyelid surgery to help you achieve revitalized-looking eyes. Dr. Quita Lopez is an experienced facial plastic surgeon who will assess your case and listen to your goals in order to rejuvenate your appearance through blepharoplasty surgery. Get bright, welcoming eyes to match the way you feel with eyelid surgery. Call for your consultation today! In Lake Oswego, OR, call (503) 353-0888 or fill out our contact form to get started.
To learn more about surgical and non-surgical restorative measures Dr. Lopez takes with her patients, follow her blog.
Before and After Photos
About the Aging Eyelids
Bright, energetic eyes suggest a friendly personality to others, while tired-looking eyes often create an image of someone who is withdrawn and sad, even if that isn't true. This may be why surgeons have taken an interest in aging eyelids since the late 1800s. [2] 
Although the appearance of our eyes is largely determined by our mood and emotions, genes and the aging process play an important role in how the skin around the eyes can influence this. Thus, many people notice that their once youthful eyes have lost some spark due to wrinkles as well as excess skin, fat, or muscle on the upper and lower eyelids.
Even if you have relatively few wrinkles, dark circles beneath your eyes or drooping lids can cause people to think you're older than you are, more tired than you feel, or are less focused. Eyelid surgery can improve these aesthetic issues.
Eyelid Surgery vs. Brow Lift
Eyelid surgery can fix drooping eyelids and under-eye bags, while a brow lift is commonly used to raise a heavy or sagging brow line. Deep forehead furrows and lines between the eyebrows can also be improved with a brow lift. And since falling eyebrows may cause the upper eyelids to have a "hooded" appearance, many people opt for correcting this problem with a brow lift combined with eyelid surgery. Regardless of whether you think your brows need any attention when thinking about facial aesthetics, it's important to not just consider individual features, but how they work together as a whole. [3]
If your upper or lower eyelids are drooping without a sagging brow line, you may only need eyelid surgery. During your consultation with Dr. Lopez, she will be able to suggest which procedure would be best for you based on your individual case.
Benefits of Eyelid Surgery in Oregon
Some of the direct benefits of eyelid surgery are:
This surgery will help you look more rested and youthful
Blepharoplasty can restore your full field of vision
You will feel your confidence rise after the surgery
Another benefit is that your surgery can be customized to your individual needs, be they aesthetic or functional:
Upper Eyelid Surgery
With an upper blepharoplasty, you can expect a reduction and natural-looking improvement for sagging eyelids and puffiness. The incision is hidden in the natural crease of your eyelid, and this surgery also has the potential to improve peripheral vision that was previously obstructed by loose skin.
Lower Eyelid Surgery
Lower blepharoplasty eliminates bags, wrinkles, or excess skin under the eyes. In the case that no skin needs to be removed, Dr. Lopez will likely perform a transconjunctival blepharoplasty. The incisions for this type of eyelid surgery are often hidden on the inside of the lid, below the lower lash line. In extreme cases, an "external" incision (on the outside of the lower lid) may be necessary to remove loose skin. Another option for lower eyelid surgery is fat injections, which help to fill in the hollowness under the eyes.
Who is the Ideal Candidate for Blepharoplasty?
Are drooping eyelids making you look older than you are? Are you having trouble seeing due to sagging eyelid skin? Excess skin can be removed to help improve your appearance and vision. A private consultation with Dr. Lopez will help determine if this surgery is the best option for you.
If you have any of the following symptoms, eyelid surgery may be a good option for you:
Upper eyelids that droop down and cast a shadow over the eyes
Tissue that rubs against the lenses of your glasses
Bags under your eyes
Wrinkles near the eye corners giving you an aged look
Hollowing or loss of volume under the eyes
Patients should be in good general health and ready to devote a short period to recovery. Additionally, patients should be non-smokers or willing to quit for the allotted time Dr. Lopez recommends.
To find out if you are a candidate for eyelid surgery, schedule your consultation with Aesthetic Laser Center!
Personal Consultation
At your consultation at our Lake Oswego office, Dr. Lopez will analyze your eyes, eyelids, and brow shape to suggest either a blepharoplasty or a non-surgical treatment that will best address your aesthetic goals. Dr. Lopez cares deeply about her patients and will take the time to understand their desired results before recommending a course of treatment.
The consultation is also your opportunity to ask any questions you may have about the procedure, your recovery, and what you can expect from your results.
Schedule your consultation today to learn more about how this surgery can help you. Call (503) 353-0888 or fill out our contact form to begin your treatment path.
Preparing for Eyelid Surgery
A comprehensive review of your medical history will be conducted before surgery to ensure that blepharoplasty is a safe option for you; this will include questions about your vision, tear production, and if you currently use corrective lenses. In some cases, an ophthalmologic evaluation may also be needed.
Before your surgery, Dr. Lopez will go over every detail of the procedure with you so that you know what to expect. You will also be given a set of detailed instructions on how to prepare for your eyelid surgery including:
When and what to eat and drink
Medication and vitamin intake
Smoking habits
Post-operative care
Please be sure to have someone drive you home from our office after the procedure since you'll be able to return home on the same day, but unable to drive yourself.
The Blepharoplasty Procedure
The majority of our patients feel at ease during upper eyelid surgery when we use local anesthesia, which numbs the area around the eye. In this case, you will be conscious throughout your eyelid surgery but will not experience any discomfort due to a sedative. In some cases, we may opt for intravenous sedation, especially with patients requesting lower eyelid surgery (with or without fat injections); in some cases, general anesthesia may be recommended.
During the procedure, Dr. Lopez will make incisions following the natural lines of your eyelids, in the creases of your upper lids, or just below your lower lashes. Through these incisions, she will remove any loose or excess skin and fat before closing the incisions with very small sutures. The length of your blepharoplasty will depend on how much skin and fat needs to be removed.
After your surgery, ice packs and ointment will be applied to your incisions to help with swelling and bruising. Our patients will go home on the day of the surgery. You will be given a list of post-operative instructions to follow including how often to clean your incisions and when to return for your follow-up appointments.
Recovery After Blepharoplasty in Oregon
The majority of our patients don't experience much pain, but we still provide pain medication in case it's needed for the first night and subsequent days.
Most of our patients feel comfortable resuming their normal activities within a week after upper eyelid surgery. However, it is important to avoid any strenuous activity or prolonged exposure to sunlight during this time. Lower eyelid surgery generally has a longer recovery period of two weeks before normal activities can resume.
To ensure that you don't have to schedule any additional appointments after your surgery, we will take care of scheduling your follow-up appointments before surgery. Your well-being is our number one priority, which is why we will keep careful track of your post-operative condition.
Your Results After Eyelid Surgery
You will not notice a difference in the appearance of your eyes immediately after surgery due to swelling. It can take several weeks for all the swelling and bruising to dissipate and for your incisions to heal. The final results of your blepharoplasty will be visible around six weeks after surgery.
Once your eyelids have recovered you can expect to experience:
A more youthful appearance
Reduced wrinkles and fine lines around your eyes
Improved vision (if droopy eyelids were obstructing your vision)
Increased self-confidence
For many of our patients, the blepharoplasty results are life-changing. The surgery not only restores a more youthful appearance but also boosts patients' self-confidence.
If you are unhappy with the signs of aging around your eyes, contact our office to schedule a consultation with Dr. Lopez so she can develop a personalized treatment plan for you.
What is the Cost of Eyelid Surgery in Lake Oswego?
The cost of blepharoplasty will vary depending on the type of procedure being performed as well as the complexity of the surgery. In some cases, insurance may cover the cost of upper eyelid surgery if it is determined that the drooping eyelids are obstructing your vision. However, most insurance companies do not cover cosmetic procedures such as lower eyelid surgery.
During your consultation, we will provide you with a detailed cost estimate for your procedure and discuss with you our financing options. Call today to start your journey to bright, gorgeous eyes!
References
Rohrich RJ, Coberly DM, Fagien S, Stuzin JM. Current Concepts in Aesthetic Upper Blepharoplasty. Plastic and Reconstructive Surgery. 2004;113(3):32e. doi:10.1097/01.PRS.0000105684.06281.32
Dupuis C, Rees TD. Historical notes on blepharoplasty. Plastic and Reconstructive Surgery. 1971;47(3):246-251. doi:10.1097/00006534-197103000-00009
Codner MA, Kikkawa DO, Korn BS, Pacella SJ. Blepharoplasty and Brow Lift. Plastic and Reconstructive Surgery. 2010;126(1):1e. doi:10.1097/PRS.0b013e3181dbc4a2