Minimally Invasive Skin Tightening with Renuvion
Conveniently located to serve the areas of Lake Oswego and Portland, OR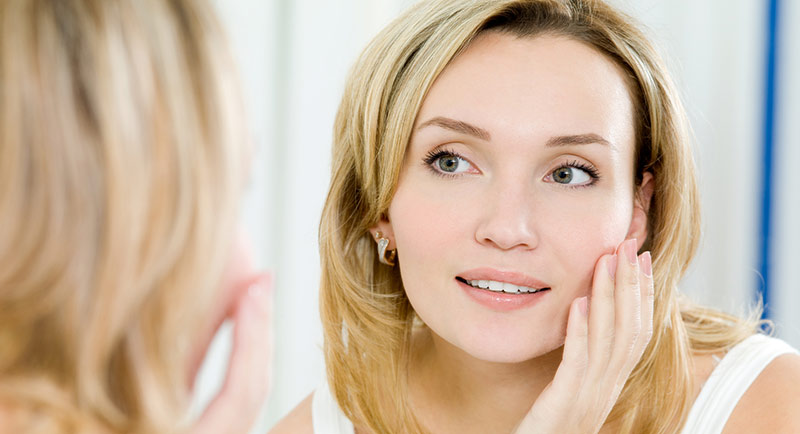 Renuvion – also known as J Plasma, J Plazty, and J Plasty – is a revolutionary skin tightening treatment that turns back the years on your skin – eliminating wrinkles and laxity through a fast and minimally-invasive procedure. As we age, so does our skin. It loses its elasticity and displays visible signs of aging and stress. Our production of collagen decreases, and the remaining collagen weakens, causing skin to sag, droop, and thin. Rapid weight loss or pregnancy can also result in loose skin which are other common motivations for patients seeking treatment with skin tightening procedures.
Renuvion treatment involves the placement of a small device just below the skin which releases helium gas and radiofrequency energy to create a cold helium plasma. This process creates a controlled thermal effect that tightens the skin and stimulates collagen production.(1) Unlike many other types of skin tightening treatments such as lasers or surgical facelifts, Renuvion is relatively pain-free and results in minimal scarring and downtime. The procedure allows patients to tighten targeted areas of the body and face, and is also referred to as a "shrink-wrap facelift!"(2)
Dr. Quita Lopez, the Medical Director at Aesthetic Laser Center, is a cosmetic surgeon with an unrivaled dedication to providing patients with the highest possible quality of care. Many Portland residents have already benefited from her expertise and you can too. Contact us to schedule a personal consultation with Dr. Lopez to learn more about Renuvion. Our office in Portland, Oregon can be reached at 503.353.0888. Give us a call today!
About Renuvion
Renuvion was introduced in 2012.(3) Originally designed for use in surgery, researchers discovered that the J Plasma device also had the ability to tighten skin that could be used for cosmetic purposes. Many tools used in surgery every day use energy-based heat to make incisions while also cauterizing, which prevents blood loss during surgery. However, applying heat to tissues also has other effects that tighten, firm, and rejuvenate skin, and today there are countless energy-based cosmetic treatments that do just that. But many of these treatments work from the outside in, and while effective, require significant downtime. Renuvion is applied underneath the skin, so the thermal effect targets the essential structure of the dermis, rather than creating controlled, yet visible damage to the epidermis. When it comes to fighting the signs of aging, collagen is key. Renuvion's gentle energy targets this essential protein for meaningful, long-lasting, and natural-looking results. The thermal effect causes existing collagen fibers to shrink, which leads to the overlying skin contracting and tightening significantly. It also stimulates the production of collagen, leading to firmer, more supple skin.
How Does Renuvion Work?
The Renuvion system uses a slender wand, or cannula, that is inserted beneath the skin through a small, discreetly placed incision. This handpiece has an electrode that emits radiofrequency energy. As it also emits helium gas, the gas becomes charged, or ionized by the energy, and is transformed into a helium plasma beam. This charged beam creates a thermal effect throughout the treatment area. However, the helium quickly loses the charge, allowing the heat to be rapidly dispersed into the surrounding tissue, which cools and prevents damage. Unlike devices with probes that feature a single hot "tip", Renuvion spreads heat evenly throughout the tissues, so the procedure is safer and results are smoother.(1)
Renuvion is also sometimes used as a resurfacing procedure for facial rejuvenation – similar to a chemical peel or laser treatment – with the device placed on the surface of the skin. This is an effective way to treat wrinkles and pigmentation issues that arise from sun damage and the natural aging process.(2)
Treatment Areas
Renuvion can be used on practically any part of the body with lax skin. The most common areas of application include:
Face
Arms
Lower Face and Neck
Knees
Thighs
Buttocks
Stomach
Sides
Breasts
Back
Some patients choose to target a specific area while other patients opt to undergo treatment on multiple different body parts in one procedure.
Benefits
Renuvion creates a thermal effect that causes existing collagen fibers to contract, immediately tightening the skin. It also stimulates the production of new stores of healthy collagen and elastin, for firmer, long-lasting improvements. This versatile treatment provides a plethora of benefits:
Erases wrinkles
Eliminates acne scars
Tighter, smoother, firmer skin and more youthful appearance
Painless
Precision control
Fast recovery
Candidates
Renuvion is an ideal choice of treatment for patients who want a skin tightening procedure with fast results and who are unable or not ready to commit to more invasive plastic surgery options such as a facelift or a tummy tuck.
Personal Consultation
To determine if Renuvion is the right treatment for you, Dr. Lopez will discuss your skin tightening needs and expectations, as well as your personal physiology during a personal consultation. Dr. Lopez is dedicated to working closely with each and every one of her patients to ensure that she determines the best course of action and a treatment plan personalized to their unique needs. To schedule your personal consultation at Aesthetic Laser Center in Lake Oswego, call (503) 353-0888, or fill out a contact form online at your convenience.
Preparation
Dr. Lopez will ensure that you have all the information you need prior to undergoing treatment. While Renuvion treatment is a minimally invasive procedure, it is important to have a full understanding of what to expect before the treatment takes place.
Make sure that you cease the use of alcohol and any blood-thinning medication or supplements such as ibuprofen or Vitamin E prior to, and after the procedure as directed, since these can cause unnecessary bleeding and bruising. Postpone the procedure if you develop any rashes, infections, or breakouts on the site of treatment. Be sure to inform your caregivers of any allergies you might have and consult with your general practitioner about your plans to undergo the procedure.
Procedure
Renuvion usually takes about an hour. Most Renuvion treatments involve the use of local anesthetic, however, more extensive treatments may require the use of general anesthetic. Dr. Lopez will make tiny incisions adjacent to the treatment area and insert the cannula underneath the skin. From there, the radio frequencies and helium plasma are emitted, causing the skin to retract and stimulating collagen production.
Recovery
Recovery time tends to be quick, and most people are able to return to their routine schedule and activities within two to three days. Many patients experience light bruising, swelling, or discomfort at the site of treatment for approximately one week after the procedure. In a majority of cases these symptoms can be effectively treated with over-the-counter pain medication. There may be peeling and redness at the treatment until the skin heals, which usually takes 1-2 weeks. The use of facial lotions and gentle skin cleansers are encouraged during this time to facilitate healing. For Renuvion treatments on the torso or limbs, compression garments must be worn as instructed to promote even skin retraction and smooth results.(1)
As with any treatment or procedure, alcohol, nicotine, and certain medications can impede, delay, or interfere with the body's natural healing processes and it is advised that you refrain from their use. Be sure to consult with Dr. Lopez regarding your use of medication during the recovery process.
Results
Only one Renuvion treatment session is necessary for visible improvement. Results from the procedure can be seen within 24 hours.(1) However, the full results of the treatment will be seen after six to nine months – since the process of skin collagen stimulation takes time to take effect. Some patients experience results which continue to improve for over a year.(1) Dr. Lopez encourages individuals who have undergone Renuvion treatment to be patient, since the improvement will continue to increase over the course of several months. Most patients can achieve similar skin tightening results to surgical skin removal procedures such as a tummy tuck, and do so without the invasiveness and extended recovery time.
Corresponding and Complementary Procedures
Depending on the patient's objectives Dr. Lopez may suggest using Renuvion treatment in conjunction with other procedures to augment the overall result. Renuvion is most frequently used in combination with facial injections such as dermal fillers and botox in order to enhance the rejuvenation of the face. Renuvion is also utilized with tummy tucks and liposuction in order to reduce the looseness of the skin in the treatment area.(4)
For more information on corresponding procedures, follow our blog!
How Much Does Renuvion Cost In Portland, Oregon?
Renuvion treatments are significantly less expensive than traditional skin lift procedures. The cost of Renuvion can vary significantly depending on the extent of the treatment, the parts of the body that are targeted, and the unique needs and objectives of the patient. Dr. Lopez will be able to give you an exact price for the cost of your treatment during your personal consultation. Aesthetic Laser Center offers financing options to patients that qualify, and specials that are not to be missed!
References