Breast Augmentation
Conveniently located to serve the areas of Lake Oswego and Portland, OR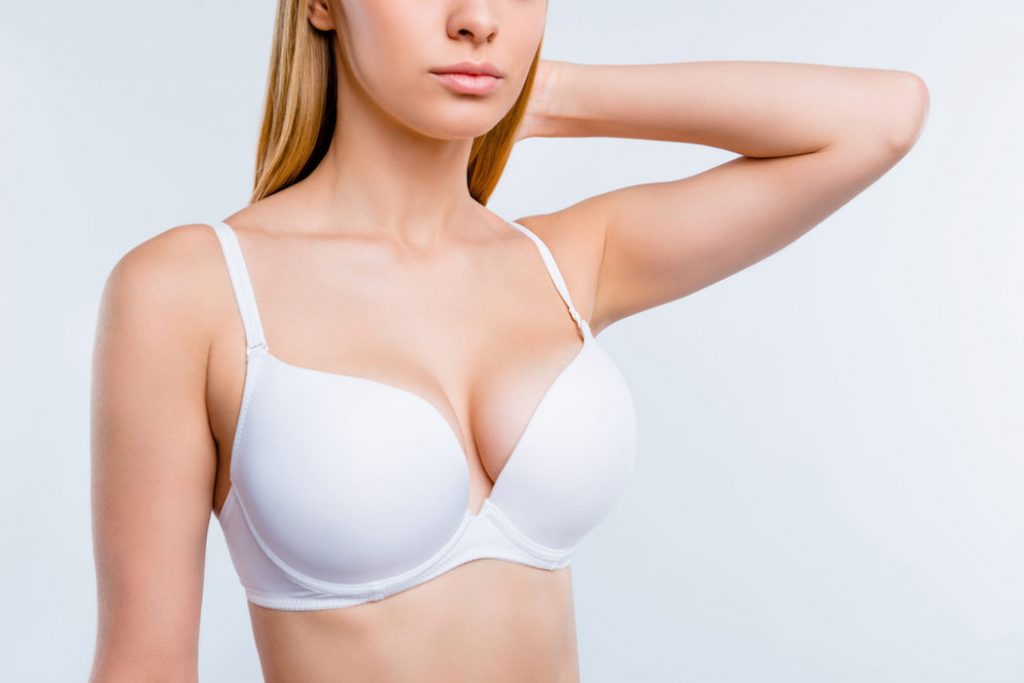 Breast augmentation is one of the most frequently performed cosmetic surgery procedures in the U.S. It can give women with small or unevenly sized breasts a fuller, firmer, better-proportioned look through the placement of implants in the breast.
As a female cosmetic surgeon, Dr. Lopez has a great understanding of the female physique and proportions, allowing her to provide beautiful, stunning results for her Oregon patients.
Contact our Oregon office today to request a one-on-one cosmetic breast augmentation consultation with Board Certified Cosmetic Surgeon Dr. Lopez.
Before and After Photos
About Breast Augmentation
Breast augmentation is a procedure that enlarges the size of the breast with implants. Breast implants are silicone shells filled with either saline (salt water) or silicone gel. They are placed behind each breast, underneath either breast tissue or the chest wall muscle. The procedure generally lasts one to two hours and is typically performed with general anesthesia.
Women may elect to undergo breast augmentation for many different medical and aesthetic motivations, including balancing breast size and compensating for reduced breast mass after pregnancy, weight loss, or surgery. It is common for women after childbirth and breastfeeding to have loss of breast tissue or deflated breasts. A breast augmentation will correct the deflated breasts. After surgery, the patient's bustline may be increased by one or more cup sizes depending on their desired aesthetic outcome. The procedure may be combined with others such as a breast lift, or tummy tuck, as part of a Mommy Makeover surgery, for more satisfying results.
Breast implants are not "one size fits all"; there are different options depending on the patient's body type, physique, and personal preference.
Breast augmentation patients have the option to choose their preferred implant, incision location, and implant placement. Below is a brief description of each. These will be explained in more detail during your consultation with Dr. Lopez, with your consultation customized to your goals and anatomy, based on an examination by Dr. Lopez.
Implant Specifics
Type
At Aesthetic Laser Center, we offer both saline and silicone implants and only use FDA approved breast implants. A saline implant is a silicone shell that is inserted (using the No Touch technique) into the breast pocket empty and then filled with sterile saline solution. A silicone implant is also a silicone shell but is prefilled with a soft silicone gel. Both options are safe and offer natural-looking results. The type chosen for an individual case depends on the patient's physique, medical history, and personal preference.
Smooth or Textured
The exterior of the breast implant can be smooth, so the implant moves naturally in the pocket or textured, which adheres to the breast tissue slightly, like velcro.
Shape
Saline and silicone implants come in either a round or anatomic or teardrop breast implant. A round implant is just that, with a round base, and choice of projection ranging from low, moderate, moderate plus, and high. The anatomic breast implants have a textured exterior surface and are sloped; the teardrop implant is closer to the anatomical shape of a breast, with more projection at the base and less at the top of the breast (near the clavicle.)
Size
The size of implants ranges from 100cc to 900cc. Implants are accurately measured in cubic centimeters; they are not measured by cup size because cup size varies between stores. The implants Dr. Lopez uses are all FDA approved and sterile.
Incisions
Breast implants can be inserted from one of three locations: under the breast in the inframammary fold, around the areola, or in the axilla.
To insert an implant from underneath the breast, an incision is made along the inframammary crease. By making the incision along this natural crease, the scar is camouflaged and usually not noticeable to other people, even if you are showering at the health club. The inframammary incision is the most common incision used for insertion of breast implants, with over 90% of breast implants placed thru the IMF scar. The IMF scar is difficult to see. Another advantage of the IMF incision is any future revisional surgery is usually done thru the IMF location. An incision can also be made around the naturally distinct border of the areola, also concealing scarring. Lastly, an incision can be made in the axilla, or armpit where scarring is hidden in a crease. Only saline implants can be used with the axillary incision because the saline implant can be inserted empty through the small axillary incision. Dr. Lopez will offer her expert opinion on which she thinks will suit the patient best.
Implant Placement
There are two spots within the breast that cosmetic surgeons can create a pocket, to place the implants in: under or over the muscle.
Submuscular, or under the muscle, is typically used for women with little breast tissue because the muscle can adequately hide the implant. Subglandular, or under the tissue but above the muscle, is often performed for women with substantial breast tissue because the tissue itself can cover the implants. Silicone implants can be submuscular or subglandular, and saline breast implants are always placed under the pectoralis muscle. The submuscular plane is most accurately described as biplanar, as the pectoralis muscle covers the upper inner half of the breast implants.
Good Candidates
Women seek breast augmentation surgery with Dr. Lopez for many reasons, the most common being:
Desire to increase the size of their breasts
Address volume loss after weight loss, pregnancy or nursing (deflated breasts)
Improve asymmetry
Create a proportional bust
Improve tuberous breasts
Enhance breast shape after mastectomy
If a patient identifies with one or more of the aforementioned reasons, they can qualify for breast augmentation if they are:
In good physical and mental health
At a stable body weight
Are 6 months or longer from breast feeding
Obtain a mammogram for all ladies 35 years and older
Have realistic expectations
Dr. Lopez will be able to determine one's candidacy after listening to your concerns and desires, reviewing your medical history during the consultation, and performing a physical examination. If you already have breast implants and desire a smaller or larger size, Dr. Lopez specializes in breast revision surgery, which includes replacing the existing implants with new implants of the patient's choice, and possibly a breast lift and breast implant capsule modification.
It is important for patients to have realistic expectations. There is no such thing as universally perfect breasts, but a breast augmentation can make the breasts perfect for the patient and more match your body. The goal of a breast augmentation is to meet the patient's individual desired results. And while breast augmentation cannot guarantee a rise in self-esteem, more often than not self-esteem and body image greatly rise for our breast augmentation patients.
Breast Augmentation vs Breast Fat Transfer
A standard breast augmentation is performed with breast implants. A breast fat transfer, or natural breast augmentation, is a breast enlargement procedure too but is done so with the patient's own fat. The fat is retrieved via liposuction and is then cleaned with a special centrifugation system. Once cleaned, the fat is injected into the breasts for subtle enlargement.
A breast fat transfer can only achieve subtle increases in breast size, and only increase up to one cup size.
For women who want more dramatic enlargement, a standard breast augmentation with implants would be the better procedure option. For additional pros and cons, please feel free to contact our office.
The Consultation
A breast augmentation consultation is an important part of the whole process. This will be the time that the patient expresses their likes, dislikes, and desires for their bust.
While a breast augmentation is for the patient, this is good time to bring your significant other or spouse. This conversation is then followed by a detailed examination by Dr. Lopez. If it is decided that the patient is a good candidate for surgery, the TouchMD system will be utilized to give the patient a chance to see potential results and gain realistic expectations. All questions will happily be answered at this time. It is important to Dr. Lopez that patients leave the consultation confident in their knowledge of breast augmentation surgery so they can make an informed decision to undergo breast augmentation surgery.
Preparing for Surgery
Our office will give a detailed handouts, describing the pre and post op instructions, which are customized for each patient. There are several preparatory steps that all patients must follow in order to achieve optimal results. Firstly, follow a healthy nutritious diet. All aspirin and ibuprofen (NSAIDS) must be stopped 2 weeks before and 2 weeks after surgery. Best healing is seen in patients that do not smoke 3 weeks prior to, as well as after, the procedure. Secondly, patients must also arrange for an adult to pick them up from surgery and drive them back home; they will not be able to drive themselves after the anesthesia. It is necessary for this individual to spend the first night with the patient. Mammograms are required for all ladies age 35 years and older. All patients must have a preop visit in our office, generally one hour, to have all questions answered, photos taken, and teaching on what to expect during and after surgery, and after care. The preop visit is an excellent time to have all your questions answered by Dr. Lopez.
What Happens During the Procedure?
When you arrive at the accredited surgery center, you will have an opportunity to meet again with Dr. Lopez, briefly review the operative plan, and Dr. Lopez will mark the incision locations for guidance and accuracy, and your approval.
From the holding room, the board certified anesthesiologist will take you to the operating room, administer general anesthesia so the patient is asleep for the duration of the operation. All patients are given IV antibiotics before surgery, and have calf compression devices on during surgery, to minimize the risks of any infection or blood clots in the legs. During this time, Dr. Lopez will make the incisions in the marked locations and create a pocket for the implants. Dr. Lopez believes in using sizers intraoperatively, to precisely and accurately confirm the breast implant pocket is perfect. The breast implants are inserted with a no touch technique, which minimized your risk of infection or contracture. Once the desired look is achieved, Dr. Lopez will close the incisions with sutures, all patients have surgical glue applied to the incisions, and the breasts will be covered in sterile surgical bandages. The entire process usually takes between one to two hours. This time frame may increase if the patient undergoes complementing procedures such as a breast lift, liposuction, tummy tuck or Mommy makeover surgery.
Complementing Procedures
While breast augmentation can provide marvelous results on its own, it is often coupled with a breast lift. A breast lift is a breast enhancing procedure that removes excess breast skin to lift the bust to a more youthful position on the chest wall. The two procedures are often performed together because a breast augmentation will not have much impact on the elevation of the nipple, and a breast lift does not change the volume of the breasts. If you have low nipples or breast tissue and skin lying on your rib cage, under the inframammary fold, you may benefit from a breast lift.
If a mother is looking to regain her pre-baby body, a mommy makeover can be performed. This all-encompassing surgery combines breast enhancement procedures with body sculpting procedures such as liposuction and a tummy tuck to create a slim and sexy contour.
Recovery
After the operation is complete, the breasts are covered in surgical bandages and bra, and the patient is then free to return home with the company of a responsible adult. Dr. Lopez requires that this person also spends the first night of recovery with the patient to help with initial recovery such as drain care. Individualized recovery instructions will be given before the patient leaves.
The recovery period for breast augmentation depends on the extent of the surgery and the patient's occupation, but on average women can expect to return to work and regular activities in about a week. Physical and strenuous activity should not be partaken in for at least a month after surgery. This is to help ensure optimal results. Any resulting scars are easily hidden in a bra or bikini top, but they will continue to fade over time with proper care. Dr. Lopez will guide you through the postoperative period.
Cost
Breast augmentation ranges in price based on factors such as incision location, type of implant (saline, silicone, teardrop) and complementing procedures. An accurate quote will be provided at the end of the consultation once Dr. Lopez has performed a physical examination and the surgery specifics have been decided on. If you are in Oregon and are interested in enhancing your breasts, feel free to contact us today and a member of our staff will gladly assist you.