Arm Lift
Conveniently located to serve the areas of Lake Oswego and Portland, OR
Achieving Toned, Slimmer Arms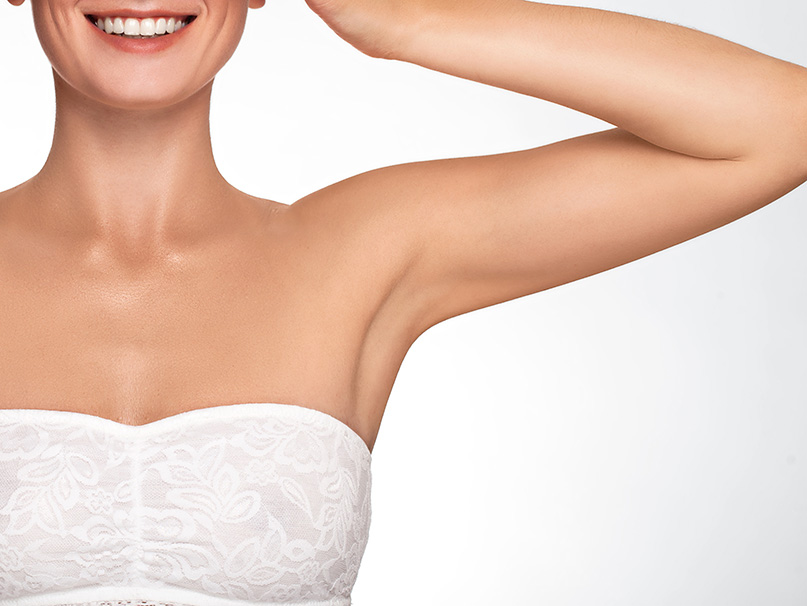 An arm lift, also known as a brachioplasty, is a surgical procedure that removes excess skin and fat from the upper arms. This procedure is often sought by individuals who have lost significant weight, which can leave them with sagging skin in the upper arm area. It can also be performed to address the natural effects of aging, which can cause the skin on the arms to lose elasticity and begin to droop. An arm lift improves the overall appearance of the arms by making them look slimmer, firmer, and more toned. Different arm lift procedures are available, including a standard brachioplasty, a limited-incision brachioplasty, and an extended brachioplasty. The specific approach will depend on the patient's needs and goals.
Dr. Quita Lopez is a cosmetic surgeon offering arm lift procedures at Aesthetic Laser Center in Lake Oswego, OR. With her experience and expertise, Dr. Lopez can help patients achieve their desired arm appearance by removing excess skin and fat from the upper arm area. The arm lift procedure can be customized to meet the patient's needs and goals. Dr. Lopez will work with each patient to determine the best approach. Patients can expect compassionate care and support throughout the entire arm lift process, from the initial consultation to the recovery period. To schedule a consultation with Dr. Lopez and learn more about how an arm lift can enhance your arm appearance, please call (503) 353-0888 or complete our contact form.
Patients can visit our blog to learn more about the arm lift procedure and other cosmetic treatments and procedures offered by Dr. Lopez. 
Before and After Photos
More About Arm Lift
Are you tired of waving hello and feeling self-conscious about your arms? Do you wish you could confidently wear short sleeves and tank tops without worrying about sagging skin and excess fat? If so, an arm lift procedure may be just what you need to achieve the toned, sculpted arms you desire. And at Aesthetic Laser Center in Lake Oswego, OR, Dr. Quita Lopez offers highly customized arm lift procedures to cater to various patient needs.
Standard Brachioplasty
This is the arm lift you want if you've got serious skin laxity and excess fat in your upper arms. It's a more involved procedure, but the results are transformative.
Limited-Incision Brachioplasty
If you're dealing with mild to moderate skin laxity and excess fat in your upper arms, the limited-incision brachioplasty may be a good option. You'll have a smaller scar and a shorter recovery time than the standard brachioplasty. Patients undergoing the limited-incision arm lift procedure experience a significant decrease in arm circumference measurements, ranging from 15% to 25%. Furthermore, scars left by the procedure are smooth and flat, with no raised or thickened areas (known as hypertrophy), making this an exciting option for Oregon patients. [1]
Extended Brachioplasty
These are the big guns. If you've got significant skin laxity and excess fat in both your upper arms and your armpit area, extended brachioplasty may be your most comprehensive solution.
While arm lift procedures can produce amazing results, they can also leave noticeable scars. The extent and visibility of scarring will depend on the type of arm lift procedure you undergo and your healing process. A skilled surgeon like Dr. Lopez will take great care to minimize scarring as much as possible and will work with you to manage scarring during recovery.
What are the Benefits of an Arm Lift?
An arm lift can offer numerous benefits to patients seeking to enhance the appearance of their upper arms, including improved arm contour, enhanced confidence, better physical comfort, long-lasting results, and improved quality of life.
Some additional benefits of an arm lift include:
More Proportionate Body Shape
An arm lift can improve the overall balance and proportion of the silhouette by reducing excess skin and fat in the upper arm area.
Improved Range of Motion
Patients may experience an improved range of motion in their arms after undergoing an arm lift, as excess skin and fat can sometimes limit movement.
Increased Clothing Options
After an arm lift, patients may feel more comfortable wearing a wider range of clothing options, including short-sleeved or sleeveless tops.
Enhanced Self-Image
Patients who feel self-conscious about the appearance of their arms may experience improved self-esteem after undergoing an arm lift.
Better Hygiene
An arm lift can offer significant improvements for patients who struggle with hygiene issues related to excess skin and fat in the upper arm area.
Ideal Candidates for Arm Lift
Patients who have lost significant weight and are left with loose, sagging skin in the upper arm area may benefit from an arm lift to achieve a more toned and contoured appearance. Patients who have undergone prior surgeries, such as bariatric surgery to aid in weight loss, may experience excess skin in the upper arms and can benefit from a lift.
Some individuals may be genetically predisposed to excess skin and fat in the upper arms; an arm lift can solve this issue. Furthermore, as we age, our skin naturally loses elasticity, and this can result in sagging skin in the upper arms. An arm lift can help address this issue and restore the arms' youthful appearance.
Personal Consultation
At Aesthetic Laser Center in Lake Oswego, OR, Dr. Quita Lopez and her team provide thorough consultations to ensure patients understand the procedure, the risks and benefits, and what to expect during and after the surgery.
During the consultation, Dr. Lopez will review the patient's aesthetic goals and expectations for the procedure's outcome. She will examine the patient's arms to assess the amount of excess skin and fat and determine the most appropriate surgical technique to achieve the desired results.
Dr. Lopez will explain the different arm lift procedures and recommend the best option based on the patient's needs and goals. She will also discuss the potential risks and complications of the procedure, such as scarring, infection, and asymmetry, and explain how these risks can be minimized.
In addition, Dr. Lopez will provide detailed instructions on preparing for the surgery, including any necessary lab tests, medications to avoid, and guidelines for fasting before the procedure. She will also discuss the recovery process and provide instructions on how to care for the incisions. By completing your consultation, you will be well-armed with the information you need to decide your future! (And we do mean well-armed.)
Preparation
Once the patient has been cleared for surgery, they will receive detailed instructions on how to prepare. This may include undergoing certain lab tests, adjusting medications, and following specific dietary guidelines to ensure the body is in optimal condition for the procedure. Patients will also need to arrange transportation to and from the surgical center and make arrangements for post-operative care and support. The arm lift recovery can be extensive since patients will have limited use of their arms as they heal, so asking for help is necessary.
In addition to physical preparation, patients should prepare mentally and emotionally for the surgery; this may involve managing expectations, discussing concerns or fears with Dr. Lopez or a mental health professional, and ensuring a positive mindset and outlook.
We are here for you every step of the way
The Arm Lift Procedure
Once the patient has been prepped for surgery and is under general anesthesia, Dr. Lopez will use one of the arm lift techniques described below. Which technique she uses will be part of the discussion during the consultation appointment.
Traditional Arm Lift – An incision is made along the underside of the arm, from the armpit to the elbow. Dr. Lopez can remove excess skin and fat through this incision and tighten and contour the remaining tissue before closing the incision with sutures.
Limited-Incision Arm Lift – As the name suggests, this procedure involves a shorter incision than the traditional arm lift, which is limited to the armpit area. Excess fat is often removed with liposuction.
Extended Arm Lift – This procedure involves a longer incision than the traditional arm lift, which extends from the armpit down to the side of the chest, allowing for the removal of excess skin and fat from the upper arm, armpit, and chest.
After an arm lift surgery, the patient may be able to return home the same day. However, those at a higher risk due to a BMI over 30 or other comorbidities may require overnight admission and monitoring. [2] 
Recovery
It's essential to follow postoperative instructions closely to ensure proper recovery. The patient may need to wear a compression garment to help reduce swelling and support the area while it heals. They should also avoid strenuous activities that may strain the arms, such as heavy lifting, for at least four to six weeks after surgery. The patient should attend follow-up appointments to monitor their progress and discuss concerns with Dr. Lopez.
Results
Whether it's to fit better into clothing, feel more confident in sleeveless tops, or simply feel better about one's appearance, arm lift surgery can help achieve those goals.
The results of brachioplasty can be seen immediately following the procedure, with continued improvement over time as swelling and bruising subside. Patients can expect smoother, more toned arms with tighter, firmer skin. Self-esteem and excitement for life will grow as patients no longer need to hide their arms or feel shame in their appearance. The positive results after arm lift surgery are far-reaching and can significantly impact a patient's quality of life.
Corresponding & Complementary Procedures
Patients may sometimes combine their arm lift procedure with other cosmetic procedures, such as liposuction or a breast lift. This can be an excellent option for patients looking to address multiple concerns for a complete transformation. Dr. Lopez can discuss your options during your consultation and help you determine the best treatment plan to achieve your desired outcome.
What is the Cost of an Arm Lift in Portland, OR?
During the consultation, Dr. Lopez will provide a personalized quote for the procedure, including all associated costs. Ask about any financing options available to make the procedure more affordable.
Call (503) 353-0888 to schedule your consultation today!
References
Mark E. Richards, MD, Minimal-Incision Brachioplasty: A First-Choice Option in Arm Reduction Surgery, Aesthetic Surgery Journal, Volume 21, Issue 4, July 2001, Pages 301–310, https://doi.org/10.1067/maj.2001.117695
467.Nagrath N, Winters R. Brachioplasty. PubMed. Published 2023. Accessed May 1, 2023. https://www.ncbi.nlm.nih.gov/books/NBK585115/