Microneedling FAQ
Conveniently located to serve the areas of Lake Oswego and Portland, OR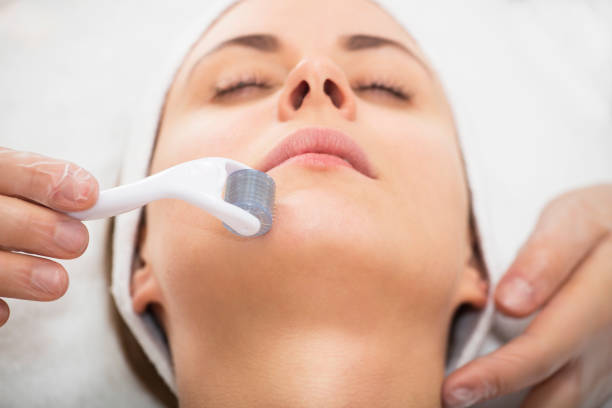 Microneedling is a popular choice when it comes to patients wanting to address the blemishes on their face. They wish to treat the skin at a deeper level and see long-lasting results. If you want to learn more about the popular treatment that can deliver smoother, clearer skin, then read on. This blog can help provide you with some insight on Microneedling with board-certified surgeon, Dr. Lopez and how she can help you achieve the aesthetic results you want in Portland, Oregon!
Before and After Photos
What is Microneedling?
Microneedling is a FDA-approved, minimally-invasive skincare treatment that rejuvenates the skin from the deeper layers. Also called collagen induction therapy, Microneedling allows the skin to generate new collagen and elastin. This makes the skin firmer and more voluminous, providing a youthful appearance. Microneedling utilizes many tiny needles or pins which puncture the surface of the skin. This causes "micro-injuries" in the skin. Harnessing the body's natural healing process, these micro-injuries promote collagen and elastin formation. This gives the skin a healthy, youthful glow over time.1 
Is Microneedling painful?
After a topical anesthetic is applied to the face, many patients are able to tolerate the sensation of the pins entering the skin very well. If at anytime the discomfort becomes intolerable, it is best to let Dr. Lopez know immediately so any adjustments can be made to ensure your comfort. 
What does Microneedling do for the skin?
Age spots?
Hyperpigmentation?
Acne scars?
Lax skin?
Fine lines or wrinkles?
Microneedling can address these concerns and more! Patients can expect the texture, tone, and complexion to become more even after Microneedling treatment. If undergoing multiple Microneedling treatments appropriately spaced apart, patients can realize even greater benefits! Dr. Lopez will work with you during a private consultation to create a customized treatment plan to get you the results you've always wanted. Contact Aesthetic Laser Center today to schedule your one-on-one Microneedling consultation!
What do I need to do to prepare for a Microneedling session?
To prepare for Microneedling, patients may be instructed to discontinue use of topical medications such as Retinol, and stay away from harsh exfoliants for 3-5 days before treatment. Also, patients may be directed to keep the skin moisturized and to use sunscreen daily to protect the skin from damage. You should follow Dr. Lopez's instructions closely as you prepare for your Microneedling session. 
What happens after a Microneedling session?
Following a Microneedling session your skin may be red and tender. You may be directed to stay away from direct sunlight, harsh chemicals, and makeup for about 2 days after the procedure. Sunscreen should be worn daily and mild cleansers and moisturizers can be used during this time. 
After the initial micro-injury to your skin, your face may look plump, feel firmer, and be smoother! Continuing to hydrate the skin will create lasting effects and your skin will give you a healthy, youthful glow!
Can I have Microneedling done regularly to maintain how my skin looks?
Yes! It is recommended that patients who may need more frequent Microneedling sessions wait at least 4-6 weeks in between treatments. If patients undergo more frequent sessions, they run the risk of harming the skin further which will not produce ideal results. Dr. Lopez will provide you with a predetermined number of Microneedling sessions with the ideal maintenance time between sessions to achieve your desired results during a consultation.
Can I do Microneedling at home?
There are a number of DIY Microneedling products on the market. While these may be desirable to reduce costs and eliminate the need to see a professional, they may produce less than stellar results. In-office treatment allows for Dr. Lopez to target your specific skincare concerns. The needles used in the clinic are adjustable, allowing Dr. Lopez to administer treatment to deeper layers of the skin. 
Also, because of the differences between the home and clinic environment, going to a trained professional for Microneedling sessions reduces risk of harming the skin. Such harms may include tearing and scarring the skin. The clinic provides a sterile environment, mitigating any risk for infection or flare-ups of skin conditions such as eczema or dermatitis. At home DIY Microneedling products, if not designed or used appropriately can cause more issues than desirable results. It is always best to meet with a well-trained and experienced professional for any invasive procedure, no matter how minimal. 
Is Microneedling only for the face?
Microneedling has been found to be effective at treating cellulite, stretch marks, the neck, and decolletage.2 Discussing your aesthetic goals with Dr. Lopez during a private consultation will help her determine if you are a candidate for Microneedling.
Can Microneedling be used to treat dark complexions?
Absolutely! Studies have shown that Microneedling does not produce hyperpigmentation as a side effect. Some other skincare techniques may cause darker skin to become even darker following treatment. Microneedling is safe and effective on all skin types and tones.2
Are there any side effects from Microneedling?
Microneedling does not have any reported adverse effects. After a Microneedling session, you can expect the skin to be red and tender. There may be some pinpoint bleeding that resolves on its own, possibly in the minutes following treatment. 
If at any point you experience severe effects such as bleeding that does not resolve, bruising, peeling, or infection of the skin, contact Dr. Lopez immediately. 
How much does Microneedling in Portland, Oregon cost?
During your consultation, Dr. Lopez and her associates will assess your needs and adjust the cost accordingly. Your customized treatment plan will inform the level of care needed to help you achieve your goals. She will discuss the number of treatment sessions recommended, the area(s) and concerns to be treated, along with any additional skincare treatments. These will impact the cost of your Microneedling treatment. Dr. Lopez and her helpful staff will provide you with a breakdown of costs prior to treatment so you can make an informed decision regarding your skincare needs.
How many Microneedling sessions do I need to meet my aesthetic goals?
Patients are able to realize their full results after about 3 sessions. However, the number of Microneedling treatment sessions you may need is completely dependent on your skin quality, the concerns to be addressed, and your skincare routine following Microneedling. More severe wrinkling or blemishes on the skin may warrant more treatment sessions. Dr. Lopez will discuss these variables with you and your recommended number of sessions during your private consultation.
How long is the Microneedling session?
Depending on if you will receive plasma application to the skin following Microneedling procedure, the session may take anywhere from 30 to 45 minutes. This will allow time to treat the entire area, and collect and administer plasma to the skin. This also includes preparing and cleansing the skin prior to and after treatment. You can return to your day immediately following a Microneedling session! Don't forget the sunblock!
Can I undergo other skin care treatments at Aesthetic Laser Center before/after my Microneedling session?
Because Microneedling does injure the skin, albeit in a controlled manner, it may be best to avoid other procedures that also cause intentional damage to the skin. This may include laser resurfacing or photofacials. Dr. Lopez will let you know when you can safely undergo other procedures following Microneedling.
Conclusion
Microneedling is a very popular choice when it comes to addressing a multitude of skincare concerns. Making your skin brighter, firmer, and clearer, you can see results after just one session! Safe for every skin color, Microneedling may be a preferred skin rejuvenation treatment for darker complexions. Microneedling sessions are relatively quick and do not need to monopolize your entire day! Little to no downtime means you can get back to work or socializing sooner. Microneedling can change the way you and others view your skin, making you more confident to show off the more radiant you!
If you are ready to realize the benefits of Microneedling for yourself, contact Aesthetic Laser Center today! Schedule your private consultation with Dr. Lopez by using our simple contact form or calling (503) 353-0888.
Additional Resources
Cherney, K. (2018). Microneedling: Collagen Induction Therapy. Retrieved from https://www.healthline.com/health/microneedling
Singh, A. & Yadav, S. (2016). Microneedling: Advances and widening horizons. Indian Dermatology Online Journal, 7(4), 244-254. Retrieved from https://www.ncbi.nlm.nih.gov/pmc/articles/PMC4976400/