Brazilian Butt Lift
Conveniently located to serve the areas of Lake Oswego and Portland, OR
A Brazilian Butt Lift is a minimally invasive surgical procedure that uses a patient's own fat to enhance the projection and curvature of the buttocks. Round, lifted buttocks are one of the latest beauty obsessions. But if diet and exercise are not paying off, there is another way to achieve a shapely derriere: a Brazilian Butt Lift at Aesthetic Laser Center. Also known as a BBL, this procedure can deliver ideal contours while also eliminating unwanted fat in other areas of the body. Unlike buttock augmentations performed with synthetic implants, a BBL offers results that look and feel natural. And because the procedure is performed with the patient's own fat, there's no risk of adverse reactions, extensive incisions, or the risk of the implants slipping out of place or requiring replacement.
Brazilian Butt Lifts are routinely performed by cosmetic and plastic surgeons worldwide. However, Dr. Quita Lopez combines this procedure with the latest body contouring technology for superior results. A BBL at Aesthetic Laser Center offers patients significant advantages, and optimal, customized results that they'll enjoy for years to come.
If you would like to learn more about how Dr. Lopez's enhanced approach to a Brazilian Butt Lift can redefine your backside, schedule an informative consultation at Aesthetic Laser Center today. Call our Lake Oswego offices at (503) 353-0888 or fill out this convenient online form to get started. 
Before and After Photos
About Brazilian Butt Lifts
Autologous fat grafting relocates strategic amounts of a patient's fat to areas requiring greater volume. This procedure was primarily used to improve facial volume until around 30 years ago, when it began to be used in body contouring procedures, and quickly became a popular way to enhance the buttocks in Brazil. Since then, the rate at which this procedure is performed has grown exponentially, and fat grafting is considered the gold standard for gluteal augmentation by surgeons worldwide.(1)
There are many reasons that the Brazilian Butt Lift procedure is so popular. And, one of the chief advantages is that it's such a customizable procedure. A BBL lets patients put unwanted areas of fat to good use and achieve the kind of curves and projection that they desire.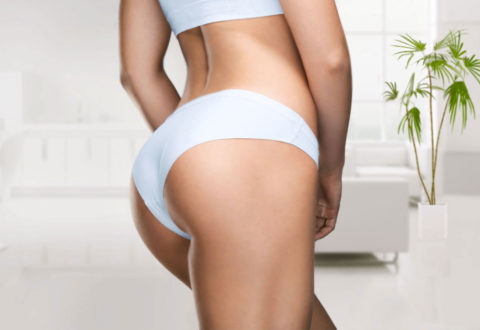 Donor fat is removed with liposuction and can be taken from the thighs, back, flanks, or abdomen to smooth contours and further contribute to dramatic results. The donor fat is then prepared for injection and reintroduced to the buttocks via a cannula to strategically sculpt rounder, voluptuous, and symmetrical buttocks. (2)
Advantages of a Brazilian Butt Lift at Aesthetic Laser Center
Dr. Lopez employs VASER Liposuction technology for fat removal when performing a Brazilian Butt Lift. Thanks to the application of ultrasound energy to the fatty area, the fat is broken down into smaller groups of cells. This makes the fat easier to remove. Patients have smoother contours and reduced recovery time when compared to traditional liposuction methods. What's more, because the fat is subject to a more gentle removal, it remains viable for grafting, and the essential stem cells for the grafts' health and survival remain intact.
One of the other benefits of VASER liposuction is that the ultrasound energy also causes some skin retraction, so there's less chance of ending up with lax skin after the fat is removed.
But that's not all; a BBL at Aesthetic Laser Center takes it one step further.
By incorporating treatment with Renuvion to her Brazilian Butt Lifts, she can ensure that the patient enjoys firmer, tighter skin in the treated areas for ideal results. The Renuvion device utilizes a combination of helium plasma and radiofrequency energy to tighten skin and encourage collagen production for firmer, more supple skin.(3) This is an ideal follow-up after liposuction, as Renuvion can "shrink wrap" the skin to ensure a taut, trim appearance after fat is removed.
Benefits of a Brazilian Butt Lift
A Brazilian Butt Lift adds curvature and definition that simply can't be achieved with non-surgical means, including even the most rigorous targeted exercise regimen. The combination of body contouring liposuction and fat injection allows for overall enhancement of a patient's physique.
BBL Benefits
Increase the size and curvature of your buttocks
Lift the projection of your buttocks
Improve the waist-to-hip ratio for a more pronounced hourglass figure
Achieve natural-looking and feeling contour improvement
Enjoy long-lasting results
Get back to work within 1-2 weeks
Unlike implants, a Brazilian Butt Lift is performed entirely with your own tissue. This means that there is no risk of complications caused by foreign objects within the body, as can occur with silicone gluteal implants. Your body will accept the transferred fat over the weeks following your BBL, and the living fat cells will settle into their new home, for results that can be enjoyed for years! Schedule a personal consultation by calling (503) 353-0888 or fill out this convenient online form to learn more about what a BBL can do for you.
BBL Candidates
A Brazilian Butt Lift delivers desirable curves in all the right places. If you are looking for a more ample endowment to your backside, but have had little success with diet and exercise, you may be a good candidate for a BBL.
Ideal Candidates for a Brazilian Butt Lift
Are discouraged by flat or sagging buttocks
Are at a stable weight and lead a healthy lifestyle
Are non-smokers, or willing to quit in the weeks leading up to their procedure and following surgery
Are free of health conditions that impact their ability to heal or undergo surgery safely
Have positive but realistic expectations of the outcomes achievable with a BBL
Even if you are a patient with a smaller amount of body fat, Dr. Lopez has the skill and experience necessary to transfer your fat to strategically augment the buttocks. To learn more about the procedures that Dr. Lopez performs and the latest in cosmetic enhancements, follow Dr. Lopez's blog!
Your Consultation with Dr. Lopez
The first step in achieving the derriere of your dreams is to schedule an appointment for a personal consultation. As with any surgical procedure, it is important to make a confident, well-informed decision, and Dr. Lopez will ensure that all of your questions are answered. Candidates for Brazilian Butt Lift will receive a private consultation where they can learn more about this procedure and whether it is a suitable way to achieve their aesthetic ideal.
During your consultation, Dr. Lopez will examine your buttocks and identify potential donor sites. Patients will be asked to disclose their medical history and medication use before any treatment plan can be determined. If you are a good candidate for Brazilian Butt Lift, she will work with you to create a step-by-step treatment plan. Some patients may also see their best results from combining a procedure like a tummy tuck with their Brazilian Butt Lift. Once your treatment has been planned, you'll receive a personalized set of instructions so that you know exactly what to do to prepare for your procedure and ensure a speedy recovery.
Procedure
A Brazilian Butt Lift is performed in two stages over the course of three to five hours. Patients are kept comfortable under general anesthesia and will be monitored by an anesthesiologist during surgery.
In order to perform Brazilian Butt Lift surgery, Dr. Lopez will first perform liposuction in the predetermined donor site or sites. After this, tiny incisions will be made and tumescent fluid will be introduced into the treatment area. Tumescent fluid is a customized combination of saline, lidocaine, and epinephrine. The tumescent fluid will cause the fat cells to swell, making them easier to gently extract from the body.
Dr. Lopez will carefully remove fat with a slim cannula, taking care to sculpt the body as she does so. The ultrasound technology of VASER not only allows her to precisely remove the necessary fat with minimal impact on the surrounding tissues, but also achieves smooth contours that accentuate the patient's underlying musculature. The addition of Renuvion ensures that the skin contracts tightly against the liposuctioned areas and any skin laxity is avoided.
Once an adequate amount of fat is collected, it will be processed through a centrifuge. After the fat is purified, Dr. Lopez will carefully inject it throughout your buttocks. She artfully augments the buttocks to achieve each patient's preferred contours and level of enhancement. She will take care to purposefully overfill the buttocks slightly. This will account for the percentage of fat absorption that occurs after any fat transfer.
This procedure is performed on an outpatient basis, so you will be able to return home on the same day as your surgery. Once Dr. Lopez has finished transferring your fat to your buttocks, you will be monitored until you are approved to return home and begin your recovery.
Due to the after-effects of your anesthesia, you will not be able to drive yourself home after your buttocks enhancement. We recommend that patients arrange for a friend or family member to drive them home following the procedure. We also recommend that you plan for someone to stay with you for the first night of your recovery. This will guarantee that you begin your recovery as comfortably as possible.
Every patient will receive personalized recovery instructions to guarantee they experience their most comfortable recovery from BBL.
Recovery
After your BBL procedure, the areas will be wrapped in compression garments to protect your results. Bruising and swelling in both the donor and recipient sites are common following BBL surgery, but you will receive guidance to help you reduce these symptoms. We will also provide prescription pain medication to control any post-procedural discomfort. In the first weeks after your surgery, it is vital to avoid any pressure on the buttocks so that the fat graft remains uncompromised. You will also receive instructions for ways that you can keep pressure off your buttocks throughout the day, including when you sleep.
You will be able to return to work within one to two weeks of your Brazilian Butt Lift. Exercise will need to be avoided for six to eight weeks.
Results
Post-procedure swelling will diminish over the weeks following your fat transfer to your buttocks, during which you'll return for follow-up appointments so that Dr. Lopez can monitor your progress. Final results will become apparent within four to six months.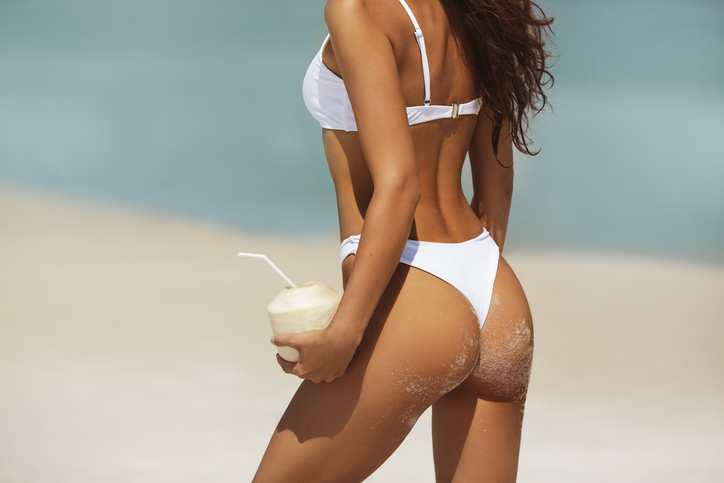 Once your recovery is complete, you'll be able to enjoy a more pronounced rear and enhanced definition to your overall contours. Your BBL results will look and feel natural because they are! Patients who maintain a stable weight and healthy lifestyle will enjoy their new, beautiful booty for ten years or more. To learn more about the results our patients enjoy after a procedure at Aesthetic Laser Center, check out our reviews!
How Much Does a BBL Cost?
The price of a Brazilian bum lift is customized to reflect the unique details of your personalized treatment plan. The type of liposuction performed, the amount of fat transferred, and the degree of work required will all impact procedure pricing. Any additional procedures that you choose to complement your BBL will also impact the price. Candidates will receive a comprehensive cost breakdown once they have agreed on the details of their treatment plan with Dr. Lopez. Qualified patients may be able to finance their BBL with a loan from Prosper Healthcare Lending. Our office will be able to provide assistance in determining your financing options.
References
O'Neill, R. C., Abu-Ghname, A., Davis, M. J., Chamata, E., Rammos, C. K., & Winocour, S. J. (2020). The Role of Fat Grafting in Buttock Augmentation. Seminars in Plastic Surgery, 34(01), 038–046. https://doi.org/10.1055/s-0039-3401038
Abu-Ghname, A., Perdanasari, A. T., & Reece, E. M. (2019). Principles and Applications of Fat Grafting in Plastic Surgery. Seminars in Plastic Surgery, 33(03), 147–154. https://doi.org/10.1055/s-0039-1693438
Duncan, D. I. (2019). Helium Plasma-Driven Radiofrequency in Body Contouring. The Art of Body Contouring. https://doi.org/10.5772/intechopen.84207