EZ Gel
Conveniently located to serve the areas of Lake Oswego and Portland, OR
Natural Regenerative Gel Enhancer
EZGEL by CosmoFrance is the hottest new non-surgical skin rejuvenation technique. Its 100% natural gel enhancer uses your body's own blood to volumize and revitalize tissues.
Everyone's skin ages, but few people really think about why that process actually happens. Skin aging is primarily due to alterations in the dermal extracellular matrix, the intricate framework that organizes skin tissues and plays a key role in cell growth, cell movement, and other cell functions. (1) All-natural autologous therapies like EZGEL can achieve effective, natural-looking results by filtering, reenergizing, and reinfusing the blood that flows through these vital tissues.
What Happens When Our Skin Ages?
During the aging process, the body's collagen and elastin production decreases and becomes less efficient. Both of these molecules are important in skin health. These essential proteins are responsible for maintaining skin cell strength and keeping it supple. Despite our efforts, both internal and external factors contribute to the formation of wrinkles, fine lines, and skin dullness. The specialized EZGEL technique isolates beneficial cells for tissue rejuvenation and reintroduces the optimized mixture back into the body. EZGEL therapy strengthens the scaffolding of tissues, rolling back the aging process in your face and restoring your beautiful visage.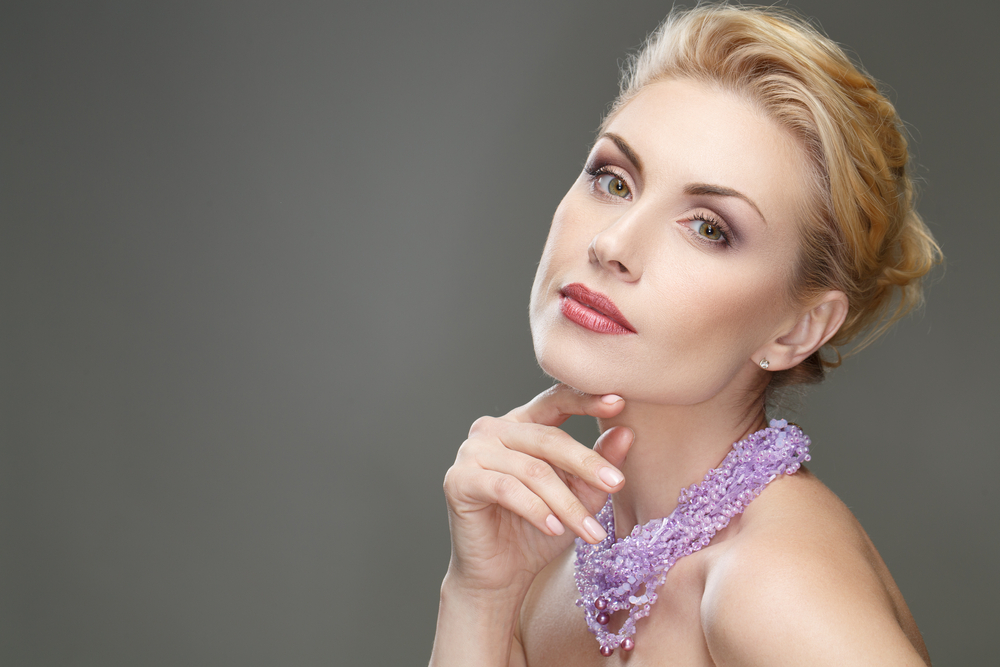 Welcome to the EZGEL Generation!
If you want to give your skin an added boost in a naturally beneficial way, please get in touch with Aesthetic Laser Center at your earliest convenience. At our Lake Oswego location, you can book a consultation with Dr. Quita Lopez for your regenerative therapy. Contact our offices at (503) 353-0888 today for more details!
Platelet Rich Fibrin & the Science of EZGEL
Advanced Biostimulating Technology
Now, let's look at the science behind this cutting-edge natural therapy! Although there may be some unfamiliar scientific terms, our aim is to present bitesize pieces of information to show you how this procedure works, and how effective it is, in a clear, understandable way.
EZGEL treatment produces a substance that is a mixture of platelet rich fibrin (PRF) and other essential molecules. The great thing about EZPRF is that it contains leukocytes, growth factors, and albumin to form "the ultimate blood concentrate." This mixture achieves effective tissue revitalization to meet patients' beautification goals. With this in mind, let's break some of these scientific terms down.
PRF – Fibrin helps blood to clot and tissue to heal, and platelets play essential roles in regenerating damaged tissue. (1) It can help to stimulate tissue healing and is used in the treatment of signs of aging. Platelet rich fibrin is derived from a patient's blood during EZGEL treatment by its separation from red blood cells in a centrifuge.
Leukocytes – Commonly known as white blood cells, leukocytes are actually colorless cells produced in bone marrow. They make up part of the immune system and are the primary way the body protects itself from infection, including skin infection. (2) In EZGEL treatment, leukocytes create a controlled inflammatory response, which is both safe and effective in treating age-related aesthetic concerns.
Growth Factors – Growth factors are naturally occuring substances that, as the name suggests, stimulate tissue growth. Growth factors and cytokines (small proteins that control cell growth) are included in cosmetic products intended for skin rejuvenation, such as EZGEL, because of their ability to promote collagen synthesis. (3)
Plasma Albumin – Albumin is a protein produced in the liver and is found in the clear part of your blood. It helps smaller molecules move through the blood and prevents the blood itself from leaking into other tissues. During an EZGEL procedure, the blood drawn from your body is heated, then cooled. Heat treatment of autologous plasma gives rise to Beta structures (responsible for biological mechanisms that revitalize the skin) which are amplified, or made more effective, on cooling. (4)
Speak to the professionals about your innovative EZGEL treatment today! Our friendly staff is ready to help you reach your beauty goals! Call us at (503) 353-0888 or fill out our convenient online inquiry form for more information.
Benefits of EZ Gel Treatment
One of the most beneficial aspects of EZGEL is its unique enhancement of the properties already present in your own body. Patients may benefit from these additional features of the treatment:
All-natural
Uses patient's own tissues
Volumizes skin
Rejuvenates features
Slow release prolongs effectiveness
Are you searching for all of the skin rejuvenation options open to you? Perhaps you're looking for a combination of treatments to address specific beauty concerns. If so, please be sure to visit our surgical procedures and non-surgical options pages, and don't forget to check our blog for an in-depth look at the additional treatments we offer to revitalize and redefine your body!
Candidates for EZ Gel Therapy
Most people eager to find natural solutions to signs of aging, such as loss of volume and dull skin, can be considered for EZGEL treatment. However, if you have a medical condition that could worsen or spread with injections, EZGEL treatment might not be a good fit for your circumstances. Examples of such issues include active infection, metastatic diseases such as cancer, or certain skin diseases. Similarly, if you have been diagnosed with certain blood and bleeding disorders, or if you have anemia or low hemoglobin levels in your blood, you should seek other rejuvenation options.
Please discuss your medical history and current conditions with Dr. Lopez at your personal consultation to see if EZGEL is the right choice for your circumstances.
Find out about our specials and see photos of our real patients after their treatments on our social media pages. Join us on Facebook, Instagram, Linkedin, and Twitter!
Personal Consultation
If this is your first visit to Aesthetic Laser Center, we will ask you to fill out some brief patient intake information and get you started with your individual consultation. Please come prepared with questions about the treatment(s) you are interested in. Once we have evaluated your needs, we can schedule a single treatment, or a series of sessions to suit your rejuvenation needs.
Preparation for EZ Gel Regenerative Therapy
A few days before your procedure, stop taking anti-inflammatory medications such as aspirin, ibuprofen, and naproxen.
Discontinue any blood thinning herbs or supplements one week before your treatment.
In the weeks before your procedure, cease any steroid program you may be on for other conditions.
On the day of your procedure, eat a healthy breakfast.
Be sure to drink plenty of water before and after EZGEL treatment.
Your health is our number one priority! Please consult with a licensed medical professional before ceasing any medications., and if you are in any doubt, you can contact our knowledgeable Lake Oswego location for further assistance at (503) 353-0888.
EZ Gel Procedure
Your EZGEL procedure will begin when Dr. Lopez ensures you are comfortable and collects blood for treatment using a special blood collection needle, line, and tube. Depending on the predetermined amount of blood collected, she may draw multiple tubes.
Results of an EZ Gel Treatment
After your EZGEL treatment, your body will work to reinfuse the restorative EZGEL treatment throughout its tissues. Over time, you will notice the rejuvenating properties of the treatment, with a healthier glow and a reduction in skin imperfections such as eye bags, wrinkles, and lines.
Cost of EZGEL Regenerative Therapy in Lake Oswego
The cost of your therapy will be determined by a number of individual factors, including the primary reason for your procedure, and the number of treatments you receive. You can find financing options for surgical and non-surgical procedures on our website.
FAQ
What is autologous regenerative therapy?
Autologous regenerative therapy is the term given to procedures that use a patient's own tissues and blood in various ways to improve aesthetic and medical concerns in the body. 
What is EZGEL in cosmetic skin treatments?
EZGEL is a cosmetic skin treatment that uses a patient's own blood. A trained medical professional removes blood from the body, then spins it in a centrifuge to separate it into its component parts. The mixture is subjected to heat and cooling, and reintroduced into the body. This type of procedure can be used to rejuvenate, volumize, and brighten skin tone and texture.
Is platelet rich fibrin anti-aging?
Platelet rich fibrin (PRF) can reduce the appearance of fine lines and wrinkles. It can also redefine your skin's texture, producing rejuvenating cosmetic results
References