Laser Hair Removal
Conveniently located to serve the areas of Lake Oswego and Portland, OR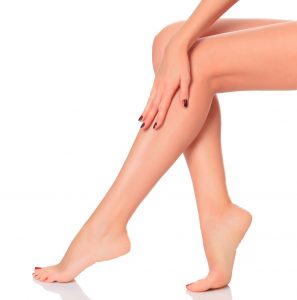 Smooth skin without the fuss of razors or the fuzz of stubble is more than just a dream. Laser hair removal is an amazing technology that leverages the precision of focused light to permanently reduce unwanted hair growth. You have the power to zap away those aggravating follicles at your chin and upper lip. Bid farewell to embarrassing body hair on the back and chest. And don't forget your bikini line!
Dr. Quita Lopez is proud to bring LightSheer laser hair removal to her patients in Portland, Oregon. She is the only cosmetic doctor in Northern Oregon who completed a full general surgery residency. Her hand-picked staff is courteous, knowledgeable and eager to assist you. Contact Aesthetic Laser Center to start a conversation about the smooth new you.
Call 503-353-0888 to set an appointment.
About LightSheer Diode Laser Hair Removal
Made by Lumenis, the same company that pioneered Intense Pulsed Light (IPL) technology, the LightSheer diode laser is considered the industry "gold standard" in achieving permanent hair reduction.
The LightSheer laser works on a range of hair colors and all skin types, including tanned skin.
It has been proven to improve the appearance of razor bumps, benign pigmented lesions, sun damage and superficial leg veins in addition to removing hair. An innovative cooling device on the end of the laser wand soothes the skin after each pulse of light, ensuring that treatment is nearly pain-free.
How Do Diode Lasers Work for Hair Removal?
Diode lasers are powered by the same laws of physics as other means of laser hair removal, but the unique quality of their radiant energy is ideal for treating dark, coarse hair like the kind found at the back and bikini line. And, unlike some competing laser and light-based therapies, diode lasers are suitable for all skin types.
Laser hair removal works on the principle of selective photothermolysis (SPTL). All light responds to color. We can see the full color spectrum in sunlight when we refract its rays through a crystal prism. Lasers are just a focused beam of electromagnetic (EM) energy resonating at a specific color frequency.
In laser hair removal, the beam is attuned to darker colors. The laser passes through the skin and targets the deep pigments of growing follicles at their roots, eliminating them. Diode lasers are unique because of the long, smooth EM wavelength of its beam. The surface level melanin found in darker skin tones is left unharmed by the diode.[1]
Candidates for LightSheer Diode Laser Hair Removal
The LightSheer diode laser system is the most effective type for both light and dark skin. The long electromagnetic wavelengths of its laser beam glide harmlessly past surface pigment to stamp out follicle roots deep within the skin. Now, people of all shades and ethnic backgrounds can benefit from the high-tech effects of aesthetic laser therapy.
A Personal Consultation With Dr. Lopez
Your personal consultation with Dr. Lopez is an educational experience. She is a dedicated and compassionate woman who strives to make Aesthetic Laser Center a safe place to discuss your goals.
Be sure to ask any questions you may have about laser hair removal or our other fine services.
Think of her as a guide, or a teacher, assisting you on your aesthetic journey. Dr. Lopez is sensitive to the major inconveniences that can impact women later on in life. Above all, she wants all of her patients to age gracefully by helping them to look and feel their best, no matter how old they are.
TouchMD
Our TouchMD system is available to empower our patients with information throughout the consultation. TouchMD is a state-of-the-art medical communication device. It comes equipped with a touchscreen for ease of use. Patients are able to look at pictures and view instructional videos during their consultation so that they are better informed about the procedures they choose to have.
Contact Aesthetic Laser Center to schedule an appointment. Call 503-353-0888. The first 30 minutes of your consultation are free!
Your Laser Hair Removal Experience
Typically, the procedure begins when Dr. Lopez numbs the target area with a topical anesthetic. She moves a handheld device that emits intense laser pulses across the area, focusing on individual hair follicles.
Hair growth takes place cyclically, in three stages. The most effective laser hair removal takes place during the androgen (full-growth) phase because the hair follicles in this stage are the most susceptible to laser energy.
Not all hair is in the same stage of growth at any given time, so several laser treatments will be necessary.
Patients usually see the best results after three to five sessions. The sessions are spaced four to eight weeks apart. The length of treatment depends on the texture of the patient's hair and the location from which it is being removed.
Recovery
Laser treatments involve powerful light energy being directed at the skin. The experience is like being outdoors in the bright sunlight. Similarly, the aftereffects of laser hair removal are analogous to what we experience after prolonged sun exposure. Unlike sun exposure, laser hair removal occurs in a controlled environment under medical supervision. Patients report redness and swelling for the first few hours after laser hair removal. To treat any discomfort, apply ice or a cool aloe gel to the affected area.[2]
Results
The results of laser hair removal are not immediate. Dr. Lopez will time your treatments to your hair growth cycle. It takes three to five sessions to see lasting results. Patients may observe shedding in the target area during the first two weeks following a laser session. You are encouraged to shave away the excess hair. Shaving stimulates new hair growth and laser treatments work best on follicles in the new-growth stage.
What Does Laser Hair Removal Cost in Northern Oregon?
The unique needs of the individual patient factor heavily into the final cost. During your personal consultation, Dr. Lopez will consider your case holistically and quote you an accurate price. We urge all who are interested to investigate our financing options, available for those who qualify. We also run frequent specials and host regular events featuring exclusive package deals.
Whatever you decide, don't be a stranger! Keep up with all the latest happenings at Aesthetic Laser Center by reading our blog. It is our privilege to be an active member of the vibrant community here in beautiful Portland, Oregon.
FAQ
Is diode laser hair removal effective?
The diode laser is very effective at removing hair from both light and dark skin. The longer EM wavelength of its beam penetrates the skin more deeply than other aesthetic lasers. Melanin at the skin's surface is unharmed, so there is less pain and risk of injury associated with the diode. Laser hair removal can permanently reduce hair growth anywhere on the body, but the best results tend to be seen at the back, bikini line, lip, chin and underarm areas. Diodes are ideal for coarse, dark body hair with deep roots. Your laser sessions will be timed to your hair growth cycle, so do not skip any appointments. If you follow your preparation and aftercare instructions with fidelity, you should see the results you're looking for after about three to five treatments.  
Is laser hair removal painful?
The discomfort you will experience from laser hair removal, if any, is very minimal. Many patients opt for the application of a topical numbing cream prior to treatment, further eliminating the likelihood of pain. The most common answer to this very common question is "it should feel like a rubber band snapping the skin." The stinging sensation varies with the areas of the body being treated and the thickness of the skin. Patients report a sharper experience at the tender tissues of the face, underarms and bikini line. While the thicker skin at the arms and legs lends to a more manageable laser hair removal experience.  
Which is better for hair removal, diode laser or IPL?
A study published by the Journal of Cutaneous and Aesthetic Surgery compared the diode laser to an intense pulsed light device (IPL) and YAG laser.[3] The study concluded that the diode was more effective than the others for laser hair removal. The study was conducted on 30 female patients with hirsutism. Hirsutism is a congenital abnormality in which one experiences excessive hair growth on areas of the body where hair is usually minimal or absent. The women were divided into three groups, each group receiving a different laser or light-based treatment. Experimenters took measurements after two, four and eight laser sessions, then compared the results. All the hirsutism sufferers experienced significant hair reduction, but the diode laser group fared best. After eight treatments, women achieved 92% hair reduction with the diode laser. Women treated with the YAG laser had a 90% reduction while the IPL group managed a 70% reduction.    
References
Goldberg, D. J. (2018). One-year follow-up results of hair removal using an 810 nm diode laser. Journal of Cosmetic Dermatology, 17(5), 775–778. doi: 10.1111/jocd.12757
Laser hair removal. (2018, May 16). Retrieved February 13, 2020, from https://www.mayoclinic.org/tests-procedures/laser-hair-removal/about/pac-20394555
Puri, N. (2015). Comparative study of diode laser versus neodymium-yttrium aluminum: garnet laser versus intense pulsed light for the treatment of hirsutism. Journal of Cutaneous and Aesthetic Surgery, 8(2), 97. doi: 10.4103/0974-2077.158445