Photofacial
Conveniently located to serve the areas of Lake Oswego and Portland, OR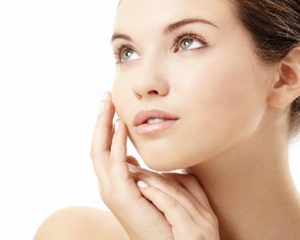 A photofacial is a process that uses pulsed light to rejuvenate the skin on your face. Photofacials can balance out uneven pigmentation and stimulate collagen production to refresh your appearance. Photofacials may also be called photorejuvenation or Pulsed Light Therapy.
You Can't Turn Back Time, But You Can Look Like It
Time inevitably leaves its marks on our skin. Sun damage, scars from acne and chickenpox, blemishes and uneven pigmentation, rosacea, and freckles are just some of the ways that time can mark us in undesirable ways. IPL photofacials provide a non-invasive remedy that helps you reverse the unwanted effects of time.
When considering a delicate treatment such as IPL photofacials, you'll want to find a practitioner you can trust.
Dr. Quita Lopez stands out as the only cosmetic surgeon in Northern Oregon that completed a full general surgery residency. She embodies the experience and sound judgment that you want when considering treatment for a sensitive region such as your face. Start your rejuvenation by scheduling an appointment with Dr. Lopez. Our caring office staff in Portland, Oregon would be delighted to hear from you at 503-353-0888.
About Photofacials in Portland, Oregon
If you are looking to heal some of the mild to moderate damage your skin has sustained over the years, photofacials offer a safe option. Photofacials use intense pulsed light to target the problematic areas of skin on your face.
How does a photofacial work?
Photofacials use Intense Pulsed Light (IPL) that operates over the visible and infrared spectrum. Photofacials treat a variety of skin conditions to restore a refreshed appearance to the face. The procedure targets uneven skin pigmentation with light waves that can be adjusted so only the uneven spots on the skin absorb the light. Areas of the skin next to the blemishes or scars remain unaffected by the process. The light passes through the outer layer of the skin (epidermis) and heats the damaged tissue while avoiding nearby healthy tissue.
IPL therapy triggers the body's natural healing process.
The body's red blood cells and melanin in the damaged tissue absorb the intense pulse light. The affected melanin gets broken up by the IPL and dispersed through the skin. Activated red blood cells initiate blood flow to the area. Activating the healing process boosts collagen and elastin production. The result reduces uneven pigmentation. The entire IPL process is called selective photothermolysis, which means matching a particular wavelength of light to damaged tissue in order to eliminate it.
Benefits
Rebalance skin tone and texture
Reduce blemishes, freckles, red and brown spots and birthmarks
Treat rosacea, broken capillaries, and other vascular lesions
Reduce prominence of scars from acne or chickenpox
Repair sun damage
Improve skin elasticity
Stimulate Type 1 collagen production
Candidates
The best candidates for IPL photofacials will have mild to moderate skin pigmentation issues (hyperpigmentation) they wish to correct. Photofacials can also include acne or chickenpox scars, blemishes, visible blood vessels, sun damage, tanning salon damage, freckles, rosacea, and broken capillaries. However, IPL photofacials aren't the best treatment for moderate to severe facial lines. Candidates for IPL photofacials should have a fair to medium complexion. Keep in mind, this specific technique does not work as well on patients with darker skin. Treatments have been shown to be effective on some Asian skin tones as well.[1]
Contraindications for Photofacials
Recent sun tanning or sunburn
Pregnancy and breastfeeding
Lupus or other autoimmune conditions
Active herpes in the area to be treated
Active infections
Active breakouts of acne
History of seizures
Aspirin, ibuprofen and other medication that thins the blood within a week
Vitamin A acids within 60 days of treatment
Skin that's too dark for the IPL process
Your Private Consultation With Dr. Lopez
Dr. Lopez loves to establish relationships with new patients. With Dr. Lopez, you are more than just a customer. Dr. Lopez wants to partner with you on your journey to evolve into the ideal version of yourself. As a partner in your quest, Dr. Lopez believes in providing you the most accurate and up-to-date information available. During your private consultation, she will go over your complete medical history and review any medications and vitamin supplements you might be taking. After a thorough review of your case, she will provide you with a detailed plan of action to meet your desired goals. If your situation is not well suited to photofacial treatment, Dr. Lopez will devise alternative strategies. Reach out to begin a conversation with Dr. Lopez by calling 503-353-0888 or schedule a consultation online.
Preparation
It's extremely important to follow all preparation instructions for photofacials to the letter. This includes avoiding all Vitamin A acids for at least 60 days before photofacial treatment and refrain from using those supplements during treatment and recovery. Most reports of photofacial complications result from patients not heeding the instructions of their surgeon. Dr. Lopez will provide you with detailed preparation instructions. Please make sure to carefully follow your instructions to avoid the risk of complications.
Procedure
We perform photofacials in a series of 20-minute treatment sessions every few weeks until we achieve your desired result. The IPL photofacial process is fairly simple.
You lie down, get comfortable, and cover your eyes.
Your technician applies a cool gel to your skin.
The IPL device showers the targeted area(s) with intense pulsed light while wielded by your technician.
Your technician applies post-treatment topical gel to finish the procedure.
Patients report different degrees of discomfort. IPL treatment is usually compared to snapping a rubber band against the skin to give you some idea of the sensation to expect. After the treatment, patients compare the feeling to minor sunburn or windburn. Minor swelling, bruising and/or redness can be expected with many patients.
Recovery
Photofacials are a low-risk procedure with virtually no downtime from work. For the best results and to avoid complications, it's important to follow every instruction that Dr. Lopez provides. Do not use any chemical exfoliants after the photofacial and avoid any supplements mentioned in your aftercare instructions. If you are provided with any post-treatment gels or moisturizing topicals, make sure to apply them as instructed. Also, if you can't avoid sun exposure, wear the highest level SPF sunscreen you can find.
Photofacial Results
Photofacials result in younger, revitalized skin. Results usually begin to show about 5-7 days after a treatment session. The IPL process begins to balance the skin pigmentation after one session, although some patients will require more sessions. Usually, 3-5 treatment sessions are recommended to achieve the desired results, but this can vary from patient to patient.
Clinical studies found that IPL photofacials offer measurable long term improvement of a variety of conditions including uneven pigmentation, minor scarring, and conditions that affect skin tone. Studies indicate that IPL photofacials are low risk with few minor side-effects associated with treatment.[2] [3]
What Other Procedures Go Along With Photofacials?
Non-invasive procedures are a safe, thorough way to treat a variety of conditions. If you have unwanted hair in some locations, laser hair removal offers an effective, long-lasting solution. Another common issue as we age is the development of varicose veins (or spider veins) on our legs. Dr. Lopez can clean those cobwebs off your legs with laser vein treatments.
How Much Do Photofacials Cost in Oregon?
The total cost of photofacials will depend on how many sessions are recommended and the location of the treatment. During your initial consultation, Dr. Lopez will inform you of the cost per session. Financing options are available if you wish to pay for your treatment in installments.
FAQ
How many photofacial treatment sessions are necessary?
While some patients can show results from just a single treatment, usually 3-5 sessions are necessary to achieve the results that patients crave. A touch-up session about once a year is recommended as continued maintenance to treat your skin. 
How long will the results of photofacials last?
The human body is a complex symphony. Because of that complexity, the results of any procedure will vary from patient to patient. Patients typically notice the results for up to one year. Follow-up sessions are recommended to continually revitalize your skin by boosting collagen production.
Are IPL photofacials the same as lasers?
No, technically IPL and lasers are different methods of utilizing light for therapy. Lasers operate on a narrow wavelength while Intense Pulse Light uses a broad spectrum of wavelengths. IPL machines can thus employ filters to treat a variety of conditions in a way that lasers can't. 
References
Shin, J., Lee, D., Choi, S., Na, J., Park, K., Youn, S., & Huh, C. (2011). Objective and non-invasive evaluation of photorejuvenation effect with intense pulsed light treatment in Asian skin. Journal of the European Academy of Dermatology and Venereology, 25(5), 516-522. doi:10.1111/j.1468-3083.2010.03815.x
Brazil, J. & Owens, P. (2003) Long‐term clinical results of IPL photorejuvenation, Journal of Cosmetic and Laser Therapy. 5:3-4, 168-174, DOI: 10.1080/14764170310018151
Ullmann, Y., Elkhatib, R., & Fodor, L. (2011). The aesthetic applications of intense pulsed light using the Lumenis M-22 device. Laser therapy, 20(1), 23–28. https://doi.org/10.5978/islsm.20.23