Love mybody
Conveniently located to serve the areas of Lake Oswego and Portland, OR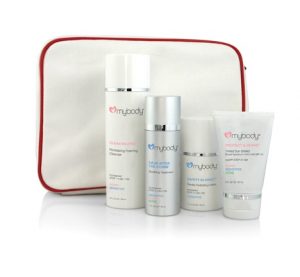 mybody products are high-performance skincare solutions specially designed for each skin type. The products are paraben free, lipid based (versus acid based), using the newest skin rejuvenation technology. This exciting NEW skincare line offers superior products developed to correct, protect, and maintain healthy skin for a lifetime. Transform your body and skin today with any of the mybody products! myPROBIOTIC™ PEEL – unlike any other peel, are the latest in non-invasive clinically active peels. The peels use specific acids to deliver myPROBIOTIC Skin Renewal Technology™ into the deeper layers of the skin. With topical probiotics, the peels are proven to naturally stimulate the skins immune system, helping the skin return to a balanced, healthy and more youthful-looking state.
Reverse It™ Kit – everything you'll need to help remove fine lines and wrinkles.
mycleanser™ – for all skin types, removes impurities and prepares the skin to receive the benefits of mybody's active ingredients.
mytreatment™– targeted solutions developed for specific skin conditions.
myhydrator™ – moisturizer for the skin to help repair, hydrate and fortify all the layers of the skin.
mySPF™ – daily broad-spectrum SPF 30, to help protect the skin from sun damage and premature aging.