Ultherapy
Conveniently located to serve the areas of Lake Oswego and Portland, OR
Ultherapy is a state-of-the-art, non-invasive, FDA approved procedure to lift your brow, face, cheek, neck, and chest. This advanced technology targets the deep layers of tissue normally reached only during a facelift or neck lift, heating them with the system's sound waves and stimulating the production of collagen to achieve a lifted, more youthful appearance of the skin and face. Ultherapy treats sagging skin of the brows, eyes, cheeks, chest, and neck while leaving the surface of the skin intact.
Ultherapy takes just 30 to 90 minutes to perform in the Dr. Lopez's office, and involves no downtime – you can get back to work immediately! Our patients are thrilled with the results Ultherapy produces. With the use of Pro-Nox, patients are extremely comfortable.
About Ultherapy
Ultherapy is the only non-surgical cosmetic procedure that uses focused ultrasound to stimulate the growth of new collagen deep within the skin. The production of new collagen occurs over time, so results can become more apparent over three to six months. The procedure takes only about an hour for most patients, and there is virtually no downtime.
It also is the only procedure to use ultrasound imaging, which allows Dr. Lopez to actually see the layers of tissue we target during the treatment and ensure the energy is deposited precisely to where it will be most effective.
Does it Hurt?
A recent software upgrade called "Ultherapy Amplify" now affords a more comfortable procedure.
While comfort thresholds vary from patient to patient, patients now report that the procedure is quite tolerable. If and when any discomfort does occur, it happens while the ultrasound energy is being delivered. This sensation is temporary and is a positive signal that the collagen-building process has been initiated. Our office uses Pro-Nox, which makes the treatment very comfortable for patients.
Board-certified cosmetic surgeon Dr. Lopez take measures to make the experience as pleasant as possible and patients tell us they leave comfortable and excited about the benefits to come.
Treatment Areas
Currently, Ultherapy is a treatment for the face and neck with a specific clinical indication for lifting the skin on the neck, chin, brow and chest.
Benefits
The primary advantage of Ultherapy is the stimulation of collagen. You get to return to work after your appointment knowing that your skin is getting healthier and more beautiful with each passing minute. Ultherapy is the secret to looking younger we have all been looking for! Even Christie Brinkley uses Ultherapy.
Good Candidates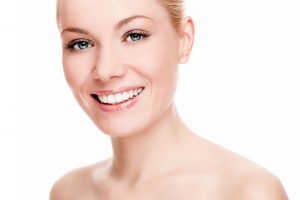 A good candidate for Ultherapy is anyone with skin that has some degree of laxity, to the point of looking, and often feeling, less firm. A lowered eyebrow line or sagging skin on the eyelids, for instance, is often the first sign of "maturing" skin. Loose skin under the neck and under the chin signals a patient might be a candidate. Typically, those in their thirties and older who have mild to moderate skin laxity are candidates.
While Ultherapy is not a replacement for a surgical facelift, there are many people who want some lifting but are not ready for surgery, either mentally, physically or financially. There also are younger people who want to "stay ahead of the game" as well as those looking to prolong the effects of cosmetic surgery.
Can Men Get Ultherapy?
Yes! Men are excellent candidates for Ultherapy. We treat many men who benefit from it and rejuvenate their appearance. Men enjoy the virtually non-existent downtime and recovery. Men can achieve the results of a facelift, without worrying about incisions and scars!
Personal Consultation
During your meeting with Dr. Lopez, she will examine your problem areas and ask about your skincare routine, past skin treatments, allergies, and medication and supplement regimen. This information will not only help her plan out your best treatment plan, it will help her determine if you are a good candidate for Ultherapy.
This meeting is a great time for you to ask Dr. Lopez any questions or concerns you may have. No question is silly and Dr. Lopez will take her time educating you on the various aspects of Ultherapy. Our goal is for you to leave your consultation educated and feeling excited for your treatment.
Preparation
There aren't many steps you need to take to prepare for your Ultherapy treatment! You may be asked to take a medication before your treatment that will reduce discomfort or inflammation. Dr. Lopez will provide you with preparation instructions during your consultation. If you have any questions about these steps, give our office a call and a friendly staff member will help you out.
How Does Ultherapy Work?
Collagen is a natural protein that gives skin its youthfulness by keeping it firmed and toned. As we age, collagen loses its strength and its ability to stand up to the effects of gravity that pull the skin downward.
Ultherapy uses focused ultrasound to generate a thermal effect under the skin. The thermal effect essentially jumpstarts a repair process that strengthens existing collagen and produces fresh, new collagen.
In an Ultherapy procedure, your treatment area will be cleaned and an ultrasound gel will be applied. The ultherapy device will then be adjusted against the skin and modified to your best settings. The device will then emit ultrasound energy into your skin. These bursts of energy may feel warm or tingly but should not be painful. If you experience discomfort, we will make adjustments to improve your treatment.
Once treatment is over, your skin will be cleansed and you will be able to return to work right away.
Recovery
After your Ultherapy treatment, you can return to work, exercise, or go out with your friends. The treated area may be red for a few hours after the appointment but will subside that first day. Some patients experience swelling and sensitivity. These symptoms should diminish within a few days. Ultherapy is a non-invasive treatment that is convenient and will help you look your best for a long time!
Results
Results depend on how quickly your body creates collagen but many patients notice improvements in their treatment area within a few days. Improvement will continue for about three months and the results achieved often last for up to a year.
Maintenance
Patients treated with Ultherapy still have fresh young collagen after a year's time following the procedure, but skin continues to age. Future touch-up treatments in Dr. Lopez's office in Portland, Oregon can help keep pace with the aging process, which varies by individual.
Complementary Procedures
Ultherapy is a great anti-aging treatment that will lift your skin and help you look years younger without requiring an invasive procedure. If you are interested in combining Ultherapy with other minimally-invasive procedures that require no downtime and offer immediate results, dermal fillers are a great option for you! Dermal fillers may potentially be performed during your Ultherapy treatment depending on where you are receiving Ultherapy. Dr. Lopez offers the following fillers at her office:
Radiesse
Belotero Balance
Sculptra
Restylane
Revanessa Versa
Bellafilll
Dermal fillers are designed to add volume to specific areas of the body. Although often used on the face, dermal fillers like Radiesse are FDA approved to add fullness to the back of the hands and fill in scars. Dermal fillers are a simple and effective way to augment your face and restore lost volume.
If you are interested in plumping your lips or filling in the area around your cheeks and eyes so you appear less aged, dermal fillers are an excellent solution! Dermal fillers are flexible in what they can be used for. If you are not interested in invasive procedures but would like to improve the appearance of your face, ask Dr. Lopez if Ultherapy is a good option for you!
Cost
The cost of your treatment will be particular to you. At Aesthetic Laser Center, we recognize that everyone has unique, beautiful skin that needs a personalized treatment. Dr. Lopez does not approach treatment with a "one-size-fits-all" mindset, instead she learns about you and your skin to determine what treatments will address your concerns and give you your best outcome.
A cost breakdown will be gone over in your consultation. To obtain smoother, firmer skin give our office a call at 503-353-0888 or click here to schedule a consultation. We look forward to hearing from you!
FAQ
How long do the effects of Ultherapy last?
The effects of Ultherapy will last for about as long as your body creates new collagen and your skin begins to age naturally again. Maintenance appointments will keep your skin creating collagen so that you look young and healthy for a long time!
How painful is Ultherapy?
Ultherapy is not considered a painful procedure. During treatment, the ultrasound energy is felt as a burst of warmth and sometimes as a tingling sensation. If you are sensitive, you may be able to take medication before the treatment that helps lower inflammation and keep you comfortable. Discuss your comfort levels with Dr. Lopez during your consultation so that adjustments can be made to ensure you have a positive experience.
What are the side effects of Ultherapy?
There are very few risks or side effects associated with Ultherapy. After treatment, it is common for the skin of the treated area to be red or flushed. Some patients also experience tingling, sensitivity and swelling in the treatment zone. These symptoms are common and should fade within a few hours or a few days. In very rare cases, some patients develop bruising or numbness in the treatment area, but even these symptoms fade within a few days. Everyone is different and will experience their own recovery. Reach out to our office if you have any concerns or questions, we are here to help you!